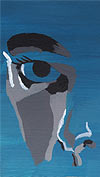 Gold Rush
Our love affair with gold is as enduring as the metal itself. Prepare to be spellbound by these captivating creations by Cornwall's brilliantly creative jewellers
It's steeped in history and is the stuff of songs, stories and legend. Armies have waged wars to win it. Our bodies even contain traces of it. You can eat it, wear it and swim in it, as it's suspended in seawater.
Gold.
The dazzling metal's origins are from outer space, while here on Earth it continues to reign supreme as one of our most precious materials – especially when it comes to wedding rings.
"We have an implicit trust in the value of gold – endorsed by the annals of time. This ancient fascination is reassuring when it comes to making an investment in it today," says Chloe Wild at Emily Nixon (emilynixon.com).
"Gold not only holds its value, but it's also durable and will last on your finger for a lifetime. And, of course, there's a reason beyond its strength that has given it its revered status – it is beautiful."
Hardy, versatile and timelessly on-trend, gold is one of the hottest metals of the moment, whether you're searching for a statement piece, reworked heirloom ring or pared-back vision of auric beauty.
"Gold is your most traditional choice for a wedding ring, and rightly so. It is a beautiful metal available in more colours than you might imagine. Every carat of gold has its own tone, so you can choose the perfect one for you," says Jamila Hirtenstein at Justin Duance (justind.co.uk) of the myriad qualities of gold.
"Unlike many jewellers, we don't rhodium plate our white golds," she adds. "Instead, we celebrate them in their natural tones, from creamy pale 9ct to the deep warm grey of 18ct white gold. As such, there is no upkeep or worry of your plating wearing off, which sometimes puts people off choosing white gold."
Specialising in contemporary custom-made jewellery, Justin's creations uniquely merge metal, meaning and design. "All of the gold we use in our jewellery is 100% recycled and we can also repurpose your own heirloom gold into a sandcast ring, which is a lovely way of adding immeasurable sentimental value to your wedding or engagement ring," says Jamila.
"I love working with yellow gold – it's my absolute favourite," enthuses Stephanie Stevens (stephaniestevensjewellery.co.uk), who consults closely with couples to co- design bespoke engagement and wedding bands. "When you polish the metal it has such a beautiful shine and colour. Also, yellow and rose gold stands out the most when it comes to adding a brushed finish: the ring can look so different just from that."
Stephanie extols another virtue of gold: melding metals, which allows couples to match the carats of their engagement and wedding rings. "It could be something really simple such as the setting for the stone is a rose or yellow gold and the main band is white gold," she says. "When you mix the metals, it can give the ring such character and really make it stand out from other rings."
Emily Nixon also loves to combine golds of different hues in her coastal-inspired style of organic jewellery. "Emily loves the mix of golds, the buttery sheen of yellow gold, the steely stone of white or the delicate pink of rose gold – each having a different mix of alloys which will define its colour and carat," explains Chloe.
The pandemic has seen a surge in interest in Emily's one-of-a-kind designs, particularly gold engagement rings, as well as continued interest in coloured gemstones – natural sapphires and coloured diamonds set in yellow gold are proving a favourite. This blend of gemstones, gold and Emily's playful approach ensures a creative and beautifully individual result. "The colour of gold will act as a base colour to begin 'painting' with gemstones," says Chloe. "She will play with colour continuously – mixing gold and her chosen gemstones in natural ocean and earth hues. These combined with the sea-worn finish to her gold – a unique part of her process – defines her coastal style of organic jewellery so distinctive to Emily."