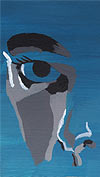 Works
Having worked in the regional publishing sector for over 15 years with an independent company on two separate titles both in print and online, I continue to maintain my long-held position as Chief Features Writer for WED Magazine in addition to regular blog and content work with Aspects Holidays while also writing for a host of other clients and publications.

This has included guest blogging for Alex Wade's Times Online Surf Nation, feature writing for Outdoor Swimming Magazine, Literary Traveler Magazine, Europe Up Close and Australia and New Zealand Magazine, extended editorial input for local travel guides, and working with marketing agencies to promote a variety of events and attractions.

Book work that I have been involved in includes research for a biography, editing scholarly publishing, and—more recently—co-editing and contributing to the Jubilee Pool Stories book, Jubilee Pool Stories: Reflections on Penzance's Seawater Lido.

"
Hannah is an exceptional writer who contributed two popular articles to the magazine, Literary Traveler. As former Editorial Director of Literary Traveler, I chose Hannah's articles based on their creativity, style and subject matter. Hannah is extremely professional with her mindfulness of deadlines, email exchanges, and most importantly, tailoring each article to the magazine and its editorial needs. I highly recommend Hannah and her writing.
"
- Jennifer Ciotta, Literary Traveler Magazine