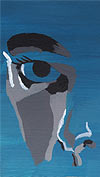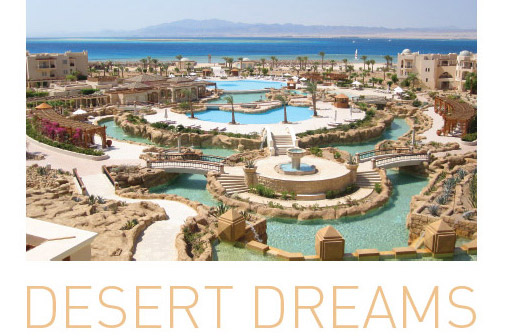 Desert Dreams
An Arabic proverb states that, 'The mind is for seeing, the heart is for hearing.' There may not be a better place to experience this simple wisdom than Egypt, where the mind will be blown away by an ancient beauty, while the heart will hear something truly spellbinding as it meditates on married life.
The Red Sea, or Bahr al-Ahmar, is the perfect place for Arabic paradise and Egyptian escapism. Its geographical location fuses a hot and dry climate with a heady mix of natural landscape where desolate desert gives way to a crystalline coastline with a wealth of life concealed underwater.
As you travel from Hurghada airport through the desert, it's at first unfathomable to think that any life can be sustained by the unyielding aridity and sparseness of the land. Yet arriving at Soma Bay to be greeted with sweeping vistas of a breathtaking bay, you're instantly transported into an oceanic Garden of Eden.
The saltiest sea in the world that contains approximately 1200 species of fish – 10% of which are unique to its waters only – The Red Sea is an alluring entity boasting one of the greatest biodiversities on the planet. It is a dreamscape for snorkellers, swimmers and scuba divers.
Guarded by the Red Sea Mountains that form the most formidable of skylines and light-splintering sunsets, Soma Bay is not only easy on the eye, it presents a range of opportunities for honeymooners to get hot-under-the-kaftan and brilliantly adrenalised (beyond the bedroom).
Since many modern honeymooners do not wish to simply eat, drink and sunbathe their time away (which, by the way, is effortlessly achieved in signature style here), Soma Bay and its host of hotels are geared for activities aplenty, where the land and ocean are both presented and primed entirely for your pleasure.
THE SPOIL-YOURSELF SANCTUARY
Award-winning and achingly romantic, the Kempinski Soma Bay offers classy, contemporary interiors alongside every conceivable convenience, making it one of the most lusted-after honeymoon locations on the Red Sea.
Its open-plan Arabic-inspired architecture echoes the character that oozes from both the building and entire staff – super friendly and easy living with an extra dose of luxury thrown in at every tantalising turn.
Not content with satisfying every whim of its guests with three restaurants, two bars, a plethora of pools, waterfalls, lagoons, jacuzzis, a private sandy beach and spa – its recreational credentials are exceptional, where kitesurfing, windsurfing, snorkelling, scuba diving and catamaran sailing are all readily available. Alternatively, abandon the beach for a round of golf at their world-class Cascades Championship Golf Course – the first championship course in the Middle East designed by golfer Gary Player.
My top treat was the Arabic cooking masterclass that took place in the hotel's kitchen courtesy of their own incredible cooks. A fun and hands-on experience, we helped to prepare a mouth-watering mezze-style meal that included baba ganoush, tabouleh and an oriental mixed grill, which we then had the pleasure of devouring. Divine.
Complete your stay in style with a private five-course romantic meal on the moonlit beach; or, for intrepid couples, consider an excursion to the historical sites that eagerly await in Egypt's hinterland, such as Luxor's Valley of the Kings and Temple of Queen Hatshepsut.
Quad or camel safari into the star-filled Sahara, book an overnight excursion to sleep in a Bedouin camp or select from a range of city and island tours.
You could even hop on a plane to Cairo for the infamous pyramids, Sphinx and Saladin Citadel or include a River Nile cruise into your enviable schedule – the possibilities of Egypt are endless.
Hotel Kempinski Soma Bay (www.kempinski.com/somabay) offers newly-weds an exclusive honeymoon package, which includes seven nights accommodation in a Laguna Club Double Suite and a five-course candle-lit dinner with complimentary bottle of wine. Prices from £369 per person per night including private airport transfer.

Classic Collection Holidays (www.classic-collection.co.uk) offers seven nights at Kempinski Soma Bay from £1,072 per person. Price based on two adults sharing a lagoon view room on a bed and breakfast basis and includes return flights from London Gatwick (other UK departure airports available) to Hurghada, private transfers and tourist entry visa for UK passport holders.
www.wedmagazine.co.uk