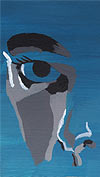 Picture Perfect
Choose a truly everlasting gift for your loved one in the form of a unique piece of artwork
Picasso once declared that 'art washes away from the soul the dust of daily life'. Like love, art is transformative. It speaks to our inner passions in a language that is intimate, knowing and deeply subjective. It evokes feeling and memory; is richly bound up with a sense of identity.
What better way to express your love story than with a unique artwork, which will memorialise your marital moment like nothing else? Pick a piece inspired by the local landscape for greater significance – whether you wish to present your beau with a painting resonant of the cliffscapes of your engagement or create a unique wedding gift registry for contributions toward a specially commissioned work, landscape-inspired art combines a sense of place and person to beguilingly bespoke effect.
You could even adorn your wedding space with artworks that can later take pride of place in your home as a reminder of your day, or gift smaller pieces to your wedding party by generous way of thanks. We've curated a collection of uber-talented creatives that draw upon the landscape to produce spectacular pieces for every wedding gift scenario...
Sarah Woods
First coming to Cornwall to study Fine Art at Falmouth University, Sarah Woods explored the relationship between mediums and surfaces through painting and printmaking processes. "I trained in screen-printing and etching techniques, and developed a real interest in the marks I could make with etchings that reflected my approach to painting," she says of her characteristic blending of styles and aesthetics.
"Most of my inspiration comes directly from the landscape and the coastline, often balanced with influences of artists focusing on process. I'm drawn to the work of sculptors and printmakers including the work of Agnes Martin, Wilhelmina Barns-Graham and Naum Gabo, and I'm really interested in Japanese printmaking. I find myself viewing the landscape in blocks of tone that can be translated through my paintings and prints."
An organic process of 'unfolding' allows Sarah to paint and etch her surrounds through flow, encapsulating the space and rhythms of nature with a grounded, yet free-spirited methodology. "I'll sometimes head to the rocks and watch the waves come in and remember this rhythm when I'm printing through an edition of an etching," says Sarah, who welcomes any studio visits and commission work.
Meticulously preparing her preferred materials before painting, which often shows the linen between lush brushstrokes, and slowly developing a drawing into a print composed of intricately woven lines and monochromatic shading; Sarah seamlessly moves from the fine details of her etchings to the softly coloured canvases of her paintings to express her seascape studies in multiple mediums.
"The textural quality of materials can be seen across both parts of my practice and I really like these details to be seen when the work is framed and displayed," she says. "For example, the deckle edge of a print can be float mounted with a subtle frame, bringing focus to the etching plate as well as the paper that has a really soft texture made from 100% cotton."
sarah-woods.co.uk
Hannah Woodman
With a background in art and design and art history – which led to an early career in museum and gallery education and, more recently, for her to co-found an art studios complex (Grays Wharf in Falmouth) – Hannah Woodman's eclectic professional influences have honed a connection between art and cultural context that informs much of her work. Her immersive 'loose and expressionist' style fuses texture, tone and mood, blurring the boundaries of realism and abstraction in a uniquely accessible way, "as I particularly like to allow for individual response and interpretation", she says.
"As a landscape painter, my inspiration comes from the natural environment, but I'm particularly interested in trying to convey an emotional response to a place rather than in capturing the specifics of visual detail," she elaborates. "I spent many years with my family at Gwithian and Godrevy, for example, and I still sometimes hear my children's voices and remember certain events when I paint there."
Reflecting this "distillation of memory, emotion and experience we have in response to landscapes", Hannah's fascination with weather fronts "and how the light can change a landscape from picturesque to foreboding in a second" features heavily in her compositions.
Walking and sketching outdoors is followed by Hannah's intuitive-led and spontaneous process of paint-layering and mark-making to capture the topography of both the land and psyche in works that visually stimulate, emotionally transport, and beautifully linger in the mind's eye as powerfully as the scenery that inspire them.
"I fully understand that buying art is an emotional process and I'm always happy to meet at my studio to show my work and talk through it there," she says. "As well as commissions, I also have an online purchasing facility on my website, which I try to update regularly with whatever originals are available at the time."
hannahwoodman.co.uk
Sam Marks
"Most of my inspiration comes from the landscape, in particular
the earthy tones, rugged textures and natural erosion of the British coastline, which is why I am based in Cornwall," says self-taught ceramicist, Sam Marks. Early exposure of the craft through his ceramicist mother ensured that Sam "almost definitely inherited a lot of technique and understanding", which complements his degree in product design for a rare mixture of intrinsic creativity, idea development and core process.
Producing a gorgeous array of original sculptural works and functional tableware that he describes as "natural, tactile, earthy, warm and comforting", Sam's ceramics range from iron-speckled carafes and stoneware mugs with overlapping landscape designs to seductively curved moon jars and sculptures reminiscent of smooth sea-worn pebble, sweeping coastal line and ancient standing stone. "My original works are definitely influenced by sculptors like Barbara Hepworth and the artist Andy Goldsworthy, as well as Japanese and Korean pottery: it's hard to ignore their beautiful traditional shapes and techniques," he reveals.
After absorbing the colours and textures of his surrounds, Sam will then experiment in his studio with natural materials to create clay bodies that represent these details such as the rusty reds, pebble greys and minutiae of sandy beaches. "I do also, from time to time, incorporate natural minerals and clays that I find while exploring the landscape," he says.
Sam's standard tableware range is available to buy online, where you can also find original one-off pieces that are seasonally added, and he is also happy to discuss larger orders and individual commissions.
In addition, he is currently planning a series of taster workshops and short 'Introduction to Ceramics' courses alongside his one-to-one throwing sessions, which present the perfect way for couples to creatively de-stress during the wedding period or a fabulously hands-on hen party idea.
sammarksceramics.co.uk
Molesworth & Bird
Taking seaweed from the shoreline and pressing it into eye-catching prints, the duo behind Molesworth & Bird's coastal-inspired brand borrow from their surrounds to portray landscape with vivid idiosyncrasy. The limited edition, hand-pressed prints vary from art prints of differing sizes to gifts like bags and homewares including tea towels, cushions and enamelware.
Beach-combing a variety of locations across the Cornwall and Devon south coast such as Palace Cove, Lantic Bay, Constantine Bay, Coombe Haven and Branscombe means that whether there's a place of personal significance
or simply a seaweed that you find particularly striking, you'll find a sublime botanical-style design to suit.
From the delicately fringed eyelash weed of Polridmouth to the flowering fan weed and leaf-like sea oak from Lantivet Bay, each individually nuanced impression conveys the natural shapes and colours of the seaweed, uniquely reflecting the beauty of the landscapes from which it was borne.
molesworthandbird.com