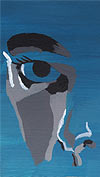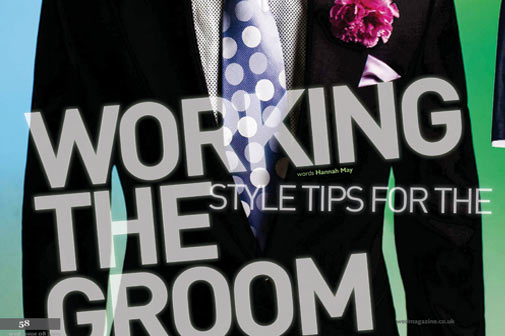 Working The Groom

LE GEEK, C'EST CHIC
With geek chic hitting renewed Clark Kent levels of cultural reference, swot styling is all the rage that can be pimped up with some on-trend flourishes such as polka dots, floral feminisations and sharp tailoring. Mix up your style with cool confidence and create an eclectic vision of grooms wear courtesy of The House of Fraser's pulse striking stock.
Navy suit: Hugo Boss, White polka dot shirt: Paul Smith, Blue circle print tie: Simon Carter, Pink silk handkerchief: New & Lingwood
www.houseoffraser.co.uk
SMARTY PANTS
Exterior styling aside, don't forget to flaunt the pants factor. Your bride will no doubt be agonising over what undies you can tear at on the night, so pay some due consideration to what briefs she'd delight in, and ditch the Y-fronts at the back door. Animal print is as hip and mannish as you can get so sport some for a wild wedding night's antics.
Calvin Klein zebra print briefs from House of Fraser
www.houseoffraser.co.uk
Tame your tackle with some trendy designs and drop your DeadGoodUndies pants. Colourful tribalism beats football hooliganism on the underwear front, so forgo your favourite team's kit for one night and treat your woman to a tantalising show. In addition to the Night Owl Ginch Gonch Jitter Glitter low rise briefs, the Totems collection includes the Wilderness Eagle and Stumped Bear designs.
www.deadgoodundies.com
For a real Cornish bespoke effect, don Spin A Yarn's 'Rightonmacock' boxers in St Piran's monochrome to keep your roots stylishly and humorously real. They'll guarantee the night has an individually Celtic twist so all you have to focus on is doing a proper job!
www.spin-a-yarn.co.uk
GROOMING GORGEOUS
Why should only your lady smell of roses when you can come off just as sweet? With St Kitts Herbery's handmade range of naturally sourced products, both bride and groom can indulge in a little herbal therapy. Their lime bay collection is a man's perfect blend of citrus sharp and fruity saccharine, leaving a lingering balmy scent that's as effortless earthy as it is deliciously different. www.stkittsherbery.co.uk
DAPPER DUO
Burton is still whipping out the stops when it comes to on-trend tailoring. Traditional lines cut with a variety of materials and colours ensure that your form will be catered for alongside your tastes – whether in the grey and brown tones that are awash in the industry or timeless blacks, charcoals and blues – you can rest assured they've got your back classily covered.
www.burton.co.uk
CELTIC BLING
It's not just Justin, but is saintly stuff. These newly designed round diamond cufflinks with Celtic knot are crafted with Cornish tin. Set with 2mm diamonds with 14ct gold bezels, they boast a bit of bling whilst characteristically charming your sleeve.
www.stjustin.co.uk