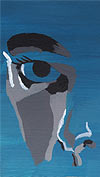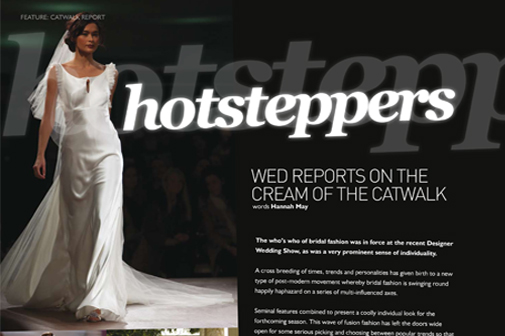 Hotsteppers
The who's who of bridal fashion was in force at the recent Designer Wedding Show, as was a very prominent sense of individuality.

A cross breeding of times, trends and personalities has given birth to a new type of post-modern movement whereby bridal fashion is swinging round happily haphazard on a series of multi-influenced axes.
Seminal features combined to present a coolly individual look for the forthcoming season. This wave of fusion fashion has left the doors wide open for some serious picking and choosing between popular trends so that you can hit the mark on the same level as everyone else, but with a totally bespoke result.
Romance is very much alive. A little luxe interspersed with classic lines is readily contemporised with flashy add-ons and bold detailing such as super-sized jewellery and accessories, huge corsages, bows and ribbons, elaborate veiling and headwear, and glitzy embellishments.
Sixties style shifts are being dressed up to the nines, as are columns, A-lines and more simplified shapes. Otherwise, fabrics are paving the way for stakes in the glamour realms, with satin and silk featuring as the forerunners.
Lace is another facet of the romantic vibe, as illustrated by the likes of Pronovias and the Vintage Wedding Dress Company. Think a modern vintage fusion of lace overlays, antiquey lace and organza type dusters. Sleeves, shrugs and lacewings built into the dress designs are typical of the trend, which point to the buttoned-up, cover-up gowns of post-war understated allure.
Flower power is very much in vogue. A wide spectrum of pattern and embossing, from floral appliqué and embroidery to baroque and brocade, is revving up wedding attire, as suggested by Sassi Holford and exposed outright in Annette Carey Couture's exaggerated bobbling.
Strapping is no longer symmetrical, nor are lines and shapes. Asymmetrics are making a cool comeback, with either single straps or full sleeves favouring just one shoulder, as demonstrated by Stephanie Allin and Heirloom Couture.
Other ornamentations and stand out traits included pockets, ruffles and tulle. Pouffe, multi-layering and folded fabrics were particularly striking in the Vivienne Westwood collection.
Colour wise, off white and ivory are kicking it down the catwalk, with gold on the champagne side of the spectrum and shades of silver captivating the crowds. Short skirts and flashes of scarlet made maximum impact, particularly when worn in attention-grabbing combination in Suzanne Neville's collection.
Romantic received further expression through floaty cuts and sheer, body nestling fabrics. Goddess is still sweeping the runways through a multitude of Greek and toga style cuts and necklines, most noticeably through the effortlessly elegant creations of Jenny Packham, Pronovias and Temperley London.
Other simmering styles include the mini skirt, which is still a hugely desirable trend, and body conscious numbers with modern hemlines (tulip, fluted, trumpet) and indulgent accessories, especially headwear (feathers, bejewelled hats and elaborate fascinators).