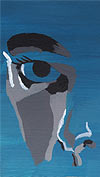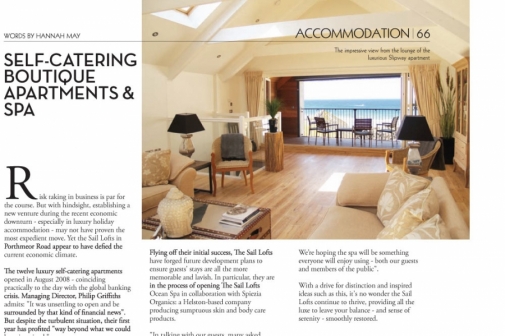 The Sail Lofts St Ives
Risk taking in business is par for the course. But with hindsight, establishing a new venture during the recession period - especially in luxury holiday accommodation - may not have proven the most expedient move. Yet the Sail Lofts in Porthmeor Road appear to have defied the current economic climate.
The twelve luxury self-catering apartments opened in August 2008 - coinciding practically to the day with the global banking crisis. Managing Director, Philip Griffiths admits: "It was unsettling to open and be surrounded by that kind of financial news". But despite the turbulent situation, their first year has profited "way beyond what we could have imagined."
The Sail Lofts complex surrounds a sub tropical central courtyard, with each of the individually designed apartments having its own entrance. The interiors merge traditional loft style accommodation with contemporary living. Many are spread over two and three floors, resembling stylish town houses rather than apartments. 

The perfectionist detail in terms of design, fixtures and fittings includes everything you could imagine for beautiful beachside living. Many of the larger apartments have separate utility rooms on the ground floor, and all are fully equipped with washers and dryers. There's also a large wet room off the central courtyard with hot showers and plenty of space to store surfboards, kayaks and other sports gear.
With an office within the complex, Philip and his team have found liaising directly with guests a distinct advantage. "The majority of our bookings do come directly through our web site, but I think people still like to talk to someone who knows the apartments, St Ives and Cornwall in detail. We certainly aim to make their visit to the town entirely hassle free, and although we are essentially self-catering, by working closely with other businesses in St Ives, we can fulfill most of our guests needs and requests". 

As many have already returned three or four times in succession, they certainly seem to be achieving their customer focused goals and reputation for continued and complete satisfaction.
Flying off their initial success, The Sail Lofts have forged future plans for expansion and development to ensure guests' stays are all the more memorable and lavish.
In particular, they are in the process of opening The Sail Lofts Ocean Spa in collaboration with Spiezia Organics: a Helston-based company producing sumptuous skin and body care products. 

"In talking with our guests, many asked where they could go simply to be pampered, so the idea sprang from that. Spiezia were recommended to us as they also specialise in a range of relaxing holistic and therapeutic treatments. We're hoping the spa will be something everyone will enjoy using - both our guests and members of the public". 
With a drive for distinction and inspired ideas such as this, it's no wonder why the Sail Lofts continue to thrive, providing all the luxe to leave your balance - and sense of serenity - smoothly restored.