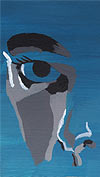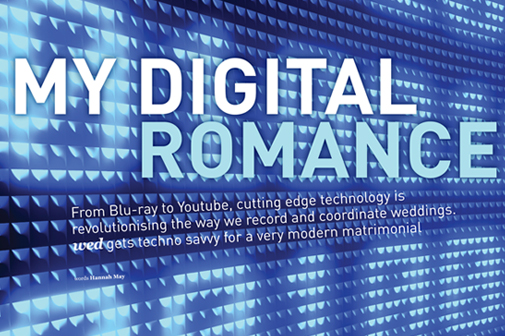 My Digital Romance
From Blu-ray to Youtube, cutting edge technology is revolutionising the way we record and coordinate weddings. Wed gets techno savvy for a very modern matrimonial.

Technophobes, fear not. The very terms 'high definition' and 'content management systems' might be enough to prompt a hasty turn of the page before you break out in a cold sweat. But dip your toe into the technical world behind the modern wedding and a whole new dimension in personalising and capturing your celebration opens before you.
Granted, back in the day, all you needed to think about was hiring a photographer if you didn't rely solely on family snaps. For the more adventurous, various uncles took the liberty of capturing the event on candid camera in a wave of 'You've Been Framed!' style filming. Today, as we notch up double figures into the millennium, new forms of media and digital recording are all the rage.
Cataloguing every moment – not just on the day itself but various times from birth through to post-wedded life – is a movement fast sweeping popular culture. Whether you opt for artistic, sentimental, edgy or comedic, the possibilities are virtually endless as you can manipulate practically any genre or style to personal effect.
Modern wedding photography has made a huge leap in quality, style and versatility and, for many, it's all you need. However, many couples are making moves towards alternate recordings of their nuptials by a multitude of mediums. If you're keen to jump on the bandwagon, then you need to consider the options – and clue yourself up with the jargon – in order to create anything from a 'mockumentary' to an MTV style music video. Not only is it an innovative process of personalisation, it ensures that all areas are covered in individual and bang-on-trend style.
The modern wedding film has come a long way from the fuzzy frames and shaky shooting of yesteryear. The idea is for clean, crisp and professional footage to be expertly transformed into perfectly stylised material. As technology evolves, the range of video products and service grows. Here's a taster.
Super 8 with high definition mixes modern technology to provide sharp pictures with a nostalgic aesthetic. Presented as reel films but without the skipping scenes or clouded images, '60s-style cine films can be created with high definition clarity for a stunning vintage style portrayal of the wedding party.
For pop lovers, Marryoke may be the trend to opt for. Clips of the wedding party miming to a select song, which are then edited into a pop video, is a fun foray into digital technology. Distinctive and memorable, the moment is captured and edited into a musical montage of the day's events and faces.
Another option is to take the recent fly-on-the-wall theme as a guideline and book a wedding CAM. A miniature camera is passed around guests to individually and collectively film the 'real wedding'. Using experimental film in this way also captures the characters of everyone involved in the wedding, evoking a more raw and true-to-life depiction of events. It can then be edited according to the couples' style and requirements, be it reportage, interviews or simply spontaneous and random as shot – this method allows great freedom for a candid collection of recorded real time.
High Definition and Blu-ray
Whatever specific mode you choose, high definition is an important aspect to consider for a sharp, contemporary record. Blu-ray – which allows ten times more data storage than a standard DVD – stores high-definition video and is a safe bet for super clarity of picture and future preservation of data.
A retro solution to off-the-cuff candid photography, who doesn't remember racing into your local post office or supermarket with a pile of friends or a lover to take some impromptu snaps of an excitable and/or inebriated moment?
Weddings are no exception: an event that allows you to reconnect with others and recapture your youth whilst all the while taking pictorial evidence of it all. Along with Polaroids and disposable cameras, photo booths are a cool, throwback kitsch mode of moment capturing.
Most companies provide an on-hand attendant to help users and some will supply crazy hats and props to jazz up the images. All images are digitally collated and uploaded to an online gallery for everyone to view, creating a novel wedding album and memorable feature to the day.
On the outside, it may appear a touch extreme. However, consider what a wedding website can accomplish and it's actually an extremely pragmatic and imaginative idea.
Not only does it relay all information to all parties involved – saving the time, money and resources involved with reaching the masses through mixed means such as writing letters, emails, Facebook threads, and so on, it stands as a lasting memory of the entire event.
Practically speaking, once the basic website is built, it is easy to maintain and update. Over the course of the preparations through to the post-wedding period, it's relatively cost effective, environmentally friendly, and – more importantly – accessible to all, wherever their location in the world.
With a variety of different packages available, you can create a website to suit your taste, needs and knowledge. Using Content Management Systems (CMS), Adobe Photoshop and HTML, you can make and manage a website with ease.
Companies offering the service walk you through the set-up and management stages so that you won't be bamboozled by the terminology and administration.
Typical basic packages may include emails, photo and file storage, blogs, photo albums, e-newsletters, music and technical support. For a more advanced and comprehensive site, you can incorporate wish lists, U-stream, guest books, gift lists, stories, polls, quizzes, mailing lists, online RSVP, family and friends, downloads, audio/video, directions – anything that informs and funnels the information direct to the desired recipients.
The number of elements and exact content is up to you – it can be as simple or extensive as you like. The advantage is that you have total control over what detail and information is shared and exactly with whom, which will no doubt relieve some of the pressure whilst multi-tasking your way through the string of 'to do' lists in a unique and – dare I say – enjoyable way.
www.wedmagazine.co.uk