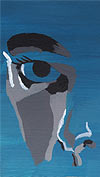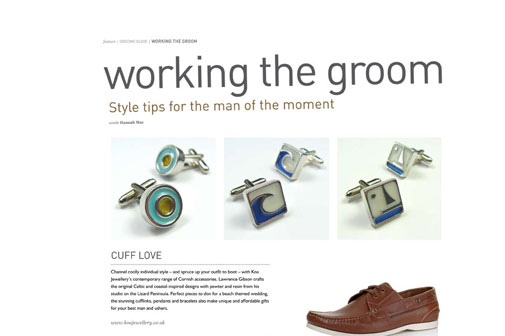 Style Tips for Grooms
CUFF LOVE
Channel coolly individual style – and spruce up your outfit to boot – with Koa Jewellery's contemporary range of Cornish accessories. Lawrence Gibson crafts the original Celtic and coastal-inspired designs with pewter and resin from his studio on the Lizard Peninsula. Perfect pieces to don for a beach themed wedding, the stunning cufflinks, pendants and bracelets also make unique and affordable gifts for your best man and ushers.
www.koajewellery.co.uk
SOLE SEEKER
Looking for the perfect shoes to team with your easy, breezy summer attire? As brogues continue to strike the style pulse, these cream numbers from Office channel a mellow seaside vibe with a generous sprinkle of sophistication, while these comfy deck shoes from French Connection are a laidback look for a marine-inspired celebration. And, for a contemporary splash of colour – not to mention bold and beautifully British design – slip on these sharp shoes from Vivienne Westwood.
SNAPPY DRESSER
Grey is a groomswear classic, which makes for a sophisticated wedding day look. Choose a smouldering palette of slate grey and hot pink for suave style with a vibrant twist or mid grey and ivory for a muted yet classy look. Reflecting the dandy, metrosexual movement that's currently sculpting men's fashion, the range of formal wear from Cameron Ross is perfect for the modern man. Check out the range at The Wedding Company in Bodmin.
www.weddingcompanycornwall.co.uk
THE FLORAL FACTOR
Break out the blooms with these funky prints. From colour-pop ties to slouchy retro shorts for honeymoon lounging, floral is the way forward this wedding season.