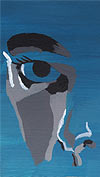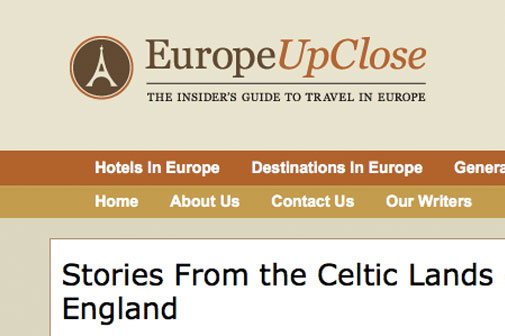 Stories From the Celtic Lands of Cornwall
Let's make it official: the end of the line does not automatically spell a strange or fated no-go. Head as far southwest in England as possible and you will not fall off the edge of the earth but will instead stumble across my home and the extraordinary Celtic lands of Cornwall.
Celebrated for world-class beaches, stunning moorlands and countryside, world heritage mining sites and historical monuments, an array of art from ancient to modern icons; and with pirates, witches, fishermen and farmers in the mix - it is a place as culturally diverse as its people.
Its position lends Cornwall a temperate oceanic climate, making it the sunniest and mildest place in the UK and the perfect location for water lovers to surf, swim and sail their way while landlubbers can hike and cycle the mass of scenic trails available.
Whatever your fancy - you'll find it here. While foodies flock to an array of festivals and celebrity chefs' restaurants, there's also music, art and nature to beguile, entertain and enthrall in equal measure.
They may be one of its main draws, but it's not all about the beaches. Though surrounded by water and practically an island - Cornwall has a spectacular collection of northern, southern and western coastlines and borders its neighbouring county and the rest of England with a river – there's something else that you should seek on your visit.
Drag yourself away from the seafood restaurants, gorgeous gardens and famous cultural landmarks such as the Eden Project - and let your itinerary be dictated by something much more alluring and spellbinding: stories.
For it's Cornwall's abundance of ancient mythology that so effortlessly spills some of the secrets of the country's far corners and showcases the enigmatic mystery of my magnificent land.
Core to Cornwall's culture - literature and story telling are as abundant as the waves. At school, I remember learning our Cornish language and delighting in the tales that told me so much about the place and people that today make a inspired origin for travellers to explore some of the county's most magical areas.
The Land of Lyonesse - Lands End
According to myth, it was late in the 11th century when huge stormy seas battered the ancient Land of Lyonesse so badly that it was submerged and lost to the ocean forever. Reportedly marked by the Seven Stones reef, on especially wild nights locals claim to still hear the church bells sound their eerie warning from the cliff tops.
Lands End is England's famous most westerly point that features a small theme park and – on clear days – boasts beautiful distant views of the Isles of Scilly – a stunning archipelago of sub-tropical islands 26 miles off the coast.
A spoil of surrounding sights and attractions make it something of a tourist hot spot, where dolphins and basking sharks can be spotted off the sublime Porthcurno Beach with it's world-renowned open-air Minack Theatre, Telegraph Museum and haunted Logan Rock.
Meanwhile, nearby Sennen Cove is home to world champion surfers, stretching around via craggy cliffs to the ever captivating and quietly mystifying cove of Cape Cornwall.
Jack the Giant Killer – St Michael's Mount and Mounts Bay
Local legend claims that St Michael's Mount was built by the giant Cormoron, who terrorised the community by raiding farms and stealing cattle to feed his insatiable appetite. A local farmer's son, Jack, decided to rid the town of the giant by digging a huge hole and covering it with sticks and leaves. He blew his horn, which woke and enraged Cormoron who ran after him and fell into the hole where he was swiftly killed by a single blow.
A heart-shaped stone on the path leading up to the castle is said to belong to the giant, and if you put your ear to it and listen hard enough, some say you can still hear his heartbeat.
Visitors can walk the causeway to the island, tide pending, or enjoy a short boat trip across to explore the spectacular National Trust castle and glorious, landscaped gardens and terraces before meandering back to the village of Marazion and onward to the buskers and bohemia of Penzance's market town.
King Arthur and the Knights of the Round Table – Tintagel
Various theories debate the exact location of Camelot – where King Arthur held court with the Knights of the Round Table. Today, many maintain that Tintagel, in North Cornwall, is indeed the famed spot of Arthurian legend, King Arthur's birthplace – and the setting for many an adventurous knight's tale.
Tintagel Castle is set into the dramatic cliff line and features ancient ruins that date back to Roman times, while Merlin's Cave – home of the legendary wizard, magician and sorcerer - lies just a short walk away on the beautiful beach below.
Travel to the traditional harbour village of Boscastle – a conservation area and Area of Outstanding Natural Beauty - for its Museum of Witchcraft; or further west to Padstow where an abundance of top-notch cafés, shops and restaurants serve the local speciality of freshly caught seafood alongside heavenly harbourside views.
Mermaid of Zennor – St Ives and Zennor
The fable follows that a mermaid, Morveren was so smitten by local fisherman Matthew Trewella's voice, that she would leave the water to listen to him sing. Upon seeing each other for the first time they fell in love instantly, but she was a creature of the sea and had to return to the call of the ocean. Matthew carried her into the waves and neither was ever seen again, though some say if you sit at the cove on a twilight evening you may still be able to hear him sing.
Visit the church of St. Senara in Zennor and see the 500-year old carved bench depicting the mermaid. Travel further east along the coast to the quaintly cobbled seaside town of St Ives where you'll find the architecturally awesome Tate St Ives and Barbara Hepworth Museum and Sculpture Garden along with a string of stunning beaches, fine seafood restaurants and galleries.
Tristan and Isolde – Fowey
An epic love story embedded in many cultures and languages, the tragic tale has various versions. Cornish knight Tristan is sent to Ireland to fetch Isolde, who is to marry his uncle, King Mark of Cornwall.
On the journey back, they accidentally consume a love potion intended for the wedding night and fall madly in love, conducting a clandestine affair until duty forces them to deny their love and – separated by circumstance – they both die of a broken heart.
Discover the three-metre tall Tristan Stone at the entrance of Fowey town on Cornwall's picturesque southern coast or venture to nearby Castle Dore – an Iron Age hill fort, where a cross is said to mark Tristan's grave.
Take a trip to Falmouth for a heady dose of Cornwall's maritime culture and the Fal River to explore the area with its extensive network of river links where boats and ferries will transport you in style to secluded coves, nature walks and coastal attractions such as Pendennis and St Mawes Castles that – like everything else you encounter in Cornwall - tell their own spellbinding story.
europeupclose.com