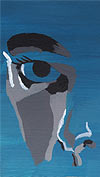 Be Kind Unwind
My skin was dewy and deliciously scented, my muscles were molten melted and my senses were somewhere else. If this sounds like your notion of a tantalising pre-wed state of being, then I suggest you read on.
We toil reassuringly hard here at WED. Delivering you the hottest news and ideas fresh from the Cornish and global wedding industries is no easy task and we work up the odd knot of tension in the process. We also know how stiflingly stressful the run up to your day of 'I dos' can be. With months or years of planning and preparation weighing your shoulders down, you need to know when to let someone tease it all out. And a pre-wedding pamper day is the perfect solution.
There is choice aplenty. You and your soon-to-be-spouse can ditch the pre-nup chats and escape for a lovers' breather. A hen party can be staged in the spa. Mothers and daughters, sisters, brothers, girlfriends or a solitary jaunt can be arranged. All you need to do is lie back and enjoy…
At your service, we took to the tiresome task of sampling the delights of some of Cornwall's premier pampering hot spots: The Penventon Park Hotel and Fistral Spa.
BODY BEAUTIFUL
The hardest aspect may well concern your selection. Whatever your need, desire and mood, something will satisfy at The Penventon. From beauty treatments such as scrubs and facials through to Aromatherapy, Herbal Compress, Thai and Indonesian massages, there's an eclectic mix. You can tailor your treatments individually, perhaps by indulging in an Indian Head massage followed by Reflexology or sampling some Tui Na and Hot Stone therapy. Spa days include lunch and the use of the leisure facilities, which feature a pool, Jacuzzi and spacious sauna. Choose from the Indulge, Unwind, Pure and Bliss packages.
I stretched out prostate to relish the blissful Full Body Aromatherapy Massage. Beginning with a full consultation to discuss medical, physical and emotional being, the entire process is a personal, holistic affair. Depending on your circumstances on that day, your oils will be mixed specially to suit. Angie suggested a warming and invigorating combination of mandarin, geranium and ginger, which smelled fantastic and percolated deep into my muscles as they loosened into tingling submission.
After three de-stressing deep breaths, Angie set to work on my face, neck and head, smoothing and kneading her way round my features as if she were re-sculpting me into a softer version of myself. My arms, feet, legs and stomach were all expertly attended to before my back was pummelled pretty.
The ambient music lulled me further away from the every day as Angie's soothing touch enveloped me, and I rose unexpectedly invigorated with a distilled inner sense of calm – just in time to return to the office…
FACE FABULOUS
A week later, it was the Atlantic rollers of Fistral Beach that welcomed me to The Bay Hotel in Newquay and the luxurious Fistral Spa. My therapist, Clare, wafted scented testers my way; my preferences were picked and products matched to my skin type accordingly, so you can rest assured that you are personally catered for.
I always assumed that facials involved nothing more than the odd slapping of potion to skin, but I often like to be proven wrong – as I was in this instance when the multiple layering of luxuriant treatments spellbound my skin and senses.
The quality of the Espa products was exemplary and felt gorgeous. I was spoiled with repeated rounds of cleansing, toning, moisturising, oiling and exfoliation, not to mention misting that felt like a cool breeze had jetted off the ocean and rested on my exterior.
Clare massaged and acupressured my face, neck and head to high heaven, while a mineral mask purified and nourished my skin. Having viewed the spectacle of Jerry Springer style cat scraps on TV, I never thought that having my hair tugged by another woman would feel so delightful, yet it did.
I eventually emerged with skin rivalling my 18-month-old nephew's and was ushered like a sleepwalker back to the relaxation room for herbal tea and fruity nibbles. A quick jaunt to the architecturally impressive swimming pool and liaisons with the sauna, Jacuzzi and steam room completed my session of escapist abandon.
The spa offers a huge array of treatments for a range of parties and requirements. Facials can be express or super active. Body therapies can hone in on particular body parts or minister to the whole. With body wraps, concept treatments incorporating hot stones and advanced body treatments featuring 'lifesaving back treatment' and 'chiropractic' options, there's a highly adaptable and varied service available to all.
Although all packages are created for both the male and female forms, gents can also pick from a selection of specially designed treatments, from body massage and the Surfer's/Sports massage to the Aromatherapy Facial.
With yet more choice for your whimsies via half or full day packages and hotel and spa breaks, this top notch, stunningly located spa goes beyond doctor's orders for pre or post-wedded bliss. Trust me.