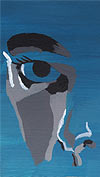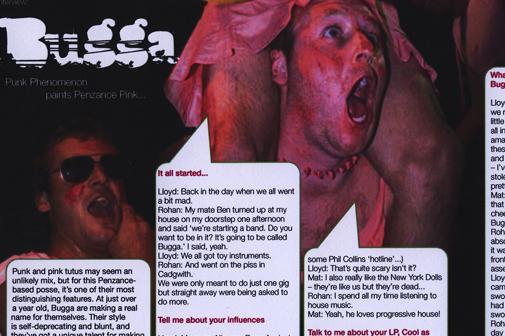 Punk Phenomenon
Punk and pink tutus may seem an unlikely mix, but for this Penzance-based posse, it's one of their most distinguishing features. At just over a year old, Bugga are making a real name for themselves. Their style is self-deprecating and blunt, and they've got a unique talent for making and performing music that can't be rivalled.
Already established as Cornwall's premier punk band, they have been invited to play at gigs such as K-Fest and the Surfstock Festival and have secured sponsorships with companies like Slut Clothing.
With a four-track LP produced by Dare Mason – the man who has also worked with Prince, Paul McCartney and Tina Turner and who produced Thirteen Senses' first album; Bugga's V.I.P Lounge recordings are the beginnings of what could be a colourful musical career.
Amongst their hectic schedule of private parties, I caught up with Rohan Inglis (Lead singer/Guitar), Mat 'Hardinator' Harding (Drums) and Lloyd 'Mongalloyd' Bernard (Head Cheerleader/Master of Ceremonies) in the absence of other band members Mickey Smith and Todd Barden, to discuss sword wielding fans and Phil Collins...
Lloyd
: Back in the day when we all went a bit mad.
Rohan
: My mate Ben turned up at my house on my doorstep one afternoon and said 'we're starting a band. Do you want to be in it? It's going to be called Bugga.' I said, yeah.
Lloyd
: We all got toy instruments.
Rohan
: And went on the piss in Cadgwith.
We were only meant to do just one gig but straight away were being asked to do more.
Tell me about your influences
Lloyd
: My mum. Nirvana, Rage Against the Machine, The Cure. Cross-dressing and running around towns had been quite a big influence on our lives.
Mat
: Heavy rock stuff. Todd's are extreme - AC/DC.
Lloyd
: Todd loves cars. Ford escort Mark Ones – he loves them!
Mat
: Mickey loves his punk.
Lloyd
: I love Simply Red. I'm all over that.
Mat
: I love Phil Collins (cue tangent on some Phil Collins 'hotline'...)
Lloyd
: That's quite scary isn't it?
Mat
: I also really like the New York Dolls – they're like us but they're dead...
Rohan
: I spend all my time listening to house music.
Mat
: Yeah, he loves progressive house!
Talk to me about your LP, Cool as Fuck, and its Producer, Dare Mason
Mat:
He fell in love with Bugga.
Rohan
: He tried to bring us some method and helped us learn the songs.
Mat:
He was pretty influential.
Lloyd
: It has changed since. Everyone's moulded together; everyone's more cohesive.
But we're complete individuals. Todd likes to run off after gigs. (To Mat) You like to pretend to run off – I've noticed that!
Ma
t: I'm advanced! Todd runs off. I hide and watch.
That's pretty creepy...
Mat
: I'm not a watcher really, don't print that!
Do you think that your name and image may cause problems for your commercial appeal?
Lloyd
: I don't think so. Because if you look at people like the Sex Pistols they were just hated for the first year of their life and then all of a sudden – you could say Sex Pistols.
What's been the best and worst for Bugga so far?
Lloyd
: The best Bosuns gig was when we rocked up and there was loads of little whipper snappers from the College all in their mums' dresses – that was amazing! I was just standing there in these pair of pants covered in pink paint and I was like that (gobsmacked face) – I've just been outdone! They actually stole their mums' clothes – that was pretty cool!
Mat:
I was pretty impressed with that Acorn gig where there were five cheerleaders spelling out the word Bugga.
Rohan
: That first one scared the absolute crap out of me because it was the first time I'd been up in front of loads of people since school assembly...
Lloyd
: Then that bloke in the crowd came at you wielding that medieval sword – do you remember that? We had to take him out. He had a proper sword.
Rohan
: Another best thing was Flora day - at the Blue Anchor.
Lloyd
: Oh yeah, that was the mentalist gig ever!
Mat
: We played in the skittle alley in the back of the pub.
Lloyd
: That was tiny – the whole back room went up and down – everyone was moshing, everyone was moving. It was pure carnage at the front, we should have had a line of bouncers or something!
Some of the best music to have originated from Cornwall is...
Mat
: Marvin and the Gayes (now renamed I Say Marvin). My Elvis Blackout, they're awesome!
Lloyd
: Haven – they're good.
And the best other sounds around right now are...
Rohan
: The Kooks and The Claxons.
If I wasn't doing this I'd probably be...
Lloyd
: I'd still be probably wearing roller-skates and dungarees going down Porthleven high street.
Mat:
I'd be in some other band (Mat was one of the founding members of the disbanded Welsh rock trio Mclusky).
Rohan
: Surfing in tropical places.
In between getting lifts to gigs in JCBs and waking up in random Cornish fields semi-naked with temporary amnesia, Bugga are currently planning more events in Newquay and Truro as well as their first gigs in Plymouth and London.
With a tribe of pink painted groupies (the Buggarettes, of course), a music video and the completion of their first album in the pipeline, as well as a documentary and tour being considered for the future, Bugga are well on their way to the house of punk.
So grab one of your mum's pink dresses, slap on a bit of pink body paint, and get ready to get sweaty in a Bugga mosh pit near you. Check out: www.bugga.co.uk or www.myspace.com/buggatheband for more information.