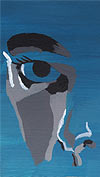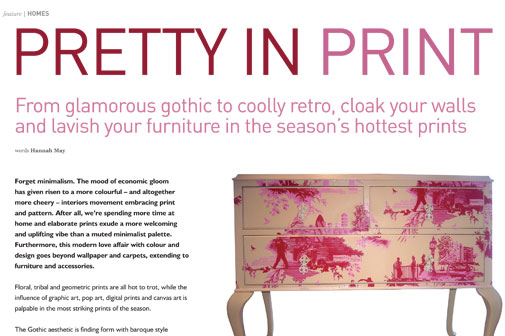 Pretty In Print
Forget minimalism. The mood of economic gloom has given rise to a more colourful – and altogether more cheery – interiors movement embracing print and pattern. After all, we're spending more time at home and elaborate prints exude a more welcoming and uplifting vibe than a muted minimalist palette.
Furthermore, this modern love affair with colour and design goes beyond wallpaper and carpets, extending to furniture and accessories.
Floral, tribal and geometric prints are all hot to trot, while the influence of graphic art, pop art, digital prints and canvas art is palpable in the most striking prints of the season.
The Gothic aesthetic is finding form with baroque style wallpaper. The boudoir is receiving a revamp, with blood reds, elaborate black blueprints and opulent shapes and styles creating a warm and indulgent ambience.
Retro is all the rage. In particular, the 1940s, and its tones of maple, pecan and walnut, is stirring a sensuous and subtle show of cool. A combination of blue, brown and white is one of the most coveted palettes, and colourful accents are also striking chords: think turquoise, icy blue, jewel and pastel hues.
You might even stamp your interiors with a highly individual twist by dressing up old pieces of furniture with fabrics and wallpaper. Bryonie Porter gives tired pieces a fabulous facelift with a statement flourish of designer wallpaper, modernising vintage through daring and imaginative design.
Southern Folk is another hot trend. With soft and cactus greens, ochre, clay, blue and orange creating contrast and maintaining a tropical edge, this new brand of bohemia is where earth mother meets exotica.
Opulent tones and textures, and deep reds and purples in velvet, goose down and luxurious cushions make for maximum impact. Juxtapose the luxe look with futuristic metallics, bold wallpaper and architectural centrepieces for a look that purrs 'welcome home'.