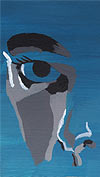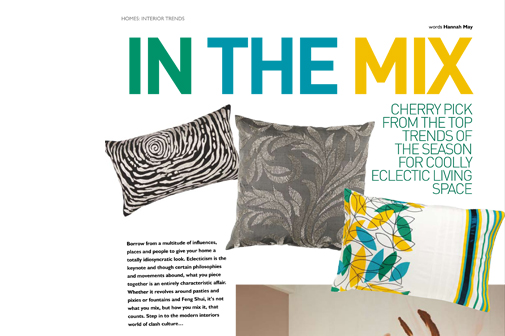 In The Mix
Borrow from a multitude of influences, places and people to give your home a totally idiosyncratic look. Eclecticism is the keynote and though certain philosophies and movements abound, what you piece together is an entirely characteristic affair.
Whether it revolves around pasties and pixies or fountains and Feng Shui, it's not what you mix, but how you mix it, thatcounts. Step in to the modern interiors world of clash culture…
Nature is mothering our interior moods by venturing inside the house. The environmental age is still in force with an increasingly intrepid,wild picture creeping within. Patterned cushions and fabrics, particularly animal printand bright or metallic leafy designs, introduce a chic signature look, while accessories such as large plates, vases and bowls make a subtle suggestion of earthy-inspired style.
Many elements from the outside world can be internalised within the home. Rustic is a popular facet, as is traditional country when contemporised with white walls, clean lines and neon bright or sparkling gold and silver centrepieces.
A modern reworking on the retro vintage theme sees an amalgamation of textures, colours and style schemes, with wallpaper paving the way. In particular, baroque and batik paisleys and 'digiwalls' – wallpaper containing digital images – are all artistically cool.
Africa is many a designer 's muse and a huge source of current interior inspiration. An array of African prints such as Ikat, Ankara and leopard skin are making a beeline for pole position. Similarly, other tribal patternsin earthy and vivid tones are stimulating the market into multicultural and beautified overdrive.
Recycled fashion, be it refuse heaps, charity shops, inherited hand-me-downs or rehashed furniture, is high on the grand schema. In this vein, the bohemic look is in play, with softer furnishings and shades forming its baseline. Folk design is another strand that is fast becoming bang on-trend in its own right.
Russian dolls and playtime and patchwork patterning is akin to this aesthetic, as is the use of fable-like colourful country garden creatures in peacock hues. Kitsch continues to be cool, finding form by materialising either cute and fun or bright and comical whilst incorporating canvas art into its sweet vision.