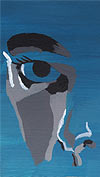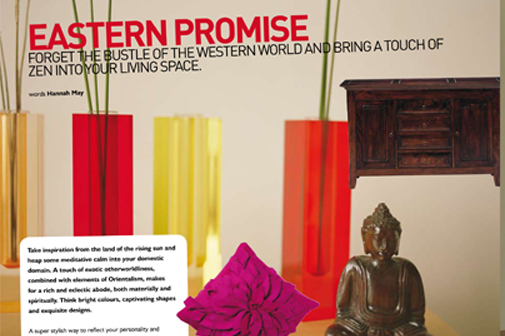 Eastern Promise
Take inspiration from the land of the rising sun and heap some meditative calm into your domestic domain. A touch of exotic otherworldliness, combined with elements of Orientalism, makes for a rich and eclectic abode, both materially and spiritually. Think bright colours, captivating shapes and exquisite designs.
A super stylish way to reflect your personality and aspirations, that Eastern touch will imbue a little Buddhist gleaned peace into your surrounds, combining inner outlook with outer façade with utmost panache.
Playing with texture, colour and design, fabric is a highly effective way to introduce the theme. This Mikado design by Voyage is sumptuously on-trend, fusing black with flashes of red across a stunning floral blueprint for a statement yet elegant edge.
Dress your tabletops with the latest looks, such as these block vases and tea lights from Block Design and lotus-like bowls by Orangewonder www.orangewonder.com. Alternatively, pay homage to the Sun gods with this glorious solar bowl by Mistress Metal.
Marks and Spencer is also taking design inspiration from the East. This decadently dark Bali dresser is a classic example of how to subtly merge furniture into your mix. Soft furnishings are no exception, with cushions plumping your posterior with sweeping colour and pretty patterning.
Take high tea with Eastern aplomb courtesy of this intricately designed bone china from the Oriental Garden Collection. The only thing left to do is space out in your own little world…