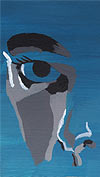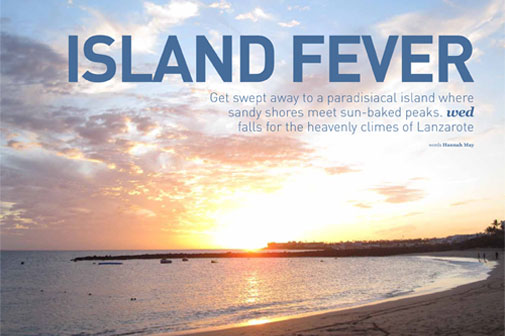 Island Fever
Lying at 13°W and 29°N, Lanzarote is perfectly placed for constant stores of sun, not to mention azure Atlantic Ocean. Located 70 miles west of Morocco, the African continent delivers warm Saharan blasts while its original Spanish influences remain enticingly strong.
At around four hours flight time, newly-weds wishing to avoid long haul travel need not look any further than the Canary Islands' most northerly offering. And though its appeal may rest on its easiness – for those wishing sweet escapism and hassle-free travel closer to home, it's a definite crowd-pleaser.
Believed to be a lasting vestige of the great Atlantis civilization, its intriguing history features pirate attacks and ancient religious battles. Possessing a powerful latent volcanic force, its position on one of the Earth's most potent ley lines that also passes through the Colorado Plateau and Plateau of Tibet ranks it as one of the world's best 'power spots'.
Garnering mystical and spiritual kudos and with a very palpable artistic identity – despite its barren-looking volcanic landscape – there's more to Lanzarote than may initially meet the eye. And, of course, the lap of luxury is never far away…
The sumptuous five-star Princesa Yaiza Suite Hotel Resort boasts a prime position on the stunning sands of Playa Blanca, providing a heavenly honeymoon hang out.
Tailoring their packages specifically to suit the individual needs of every couple, the expert team promises a unique and memorable experience at a sublimely romantic hot spot.
The hotel's Hispano-Arabic themed design echoes the cohesive character of the island while maintaining its landmark identity and position as one of the most lauded in Lanzarote. Offering Mexican, Italian and Japanese foods, its choice of five fabulous restaurants guarantees a lip smacking selection of global cuisine.
Stay in any of the specially prepared suites overlooking the manicured gardens and four private swimming pools, and enjoy lingering views of the beautiful island of Fuerteventura – just a 15-minute ferry ride away – that frame the breathtaking backdrop. Treat yourself to their new Carita Paris treatments at the Thalasso-therapy Spa and experience first-hand the hotel's reputation for first-rate and exclusive service.
Beyond the beach, there's a plethora of sights and activities. Costa Teguisa offers some of the best windsurfing in Europe, while surfing, scuba diving and snorkelling remain popular pursuits across the isle.
At Taro de Tahiche, visit acclaimed eco-architect César Manrique's former home-turned-foundation. Don't miss his dazzling designs at the captivating Jardin de Cactus and Jameos del Agua – Manrique's very own underground world and acoustic auditorium.
For art, find the Castillo de San José, home to the Museo International de Arte Contemporáneo and go local at El Golfo for an authentic Spanish menu to veer off the tourist track.
Hire a car and head north toward the highest mountain range. Seek out the very tip, near Órzola, at Manrique's magnificent lookout point and glass-fronted café at Mirador del Río. Seize panoramas of nearby La Graciosa (a tiny, other-worldly isle and secret surfers' spot) and neighbouring islands, Montaña Clara and Alegranza.
Timanfaya National Park also falls in the not-to-be-missed category. Take a detour on camel back and then drive through this massive park that hosts the world's only volcanic restaurant – El Diablo, another Manrique creation. Bus tours around the Montañas del Fuego (Fire Mountains) run regularly, affording some rare geological and scenic sites.
www.wedmagazine.co.uk