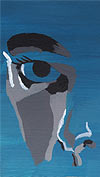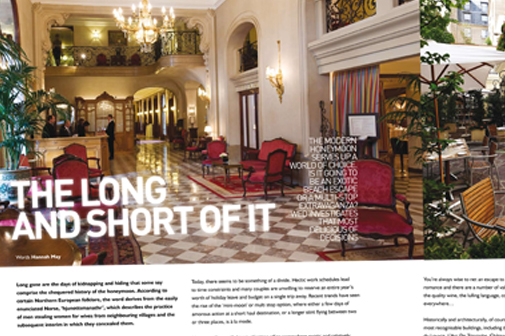 The Long And Short of It
Long gone are the days of kidnapping and hiding that some say comprise the chequered history of the honeymoon. According to certain Northern European folklore, the word derives from the easily enunciated Norse, 'hjunottsmanathr', which describes the practice of men stealing women for wives from neighbouring villages and the subsequent interim in which they concealed them.
Dating back to the time of Atilla the Hun, when a month's worth of daily honeyed wine or mead drinking was incorporated into the stunt, it is the latter part of the tradition that carried over the centuries whilst poets and the alike debated love's moonlike waxing and waning qualities…
On a more romantic note, the immediate aftermath of a wedding has culturally become referred to as the honeymoon period. And the point is that the practice, just like the meaning, has evolved over time.
Many coupes never had the liberty of waltzing off into the sunset of foreign shores to commemorate the beginning of married life. But nowadays it's one of the primary concerns involved in the planning and execution of the perfect wedded fixture.
Whereas a weekend in Blackpool may have been regarded as a luxury to behold in the last century, recent times have demanded customised luxury in some of the most exclusive spots of unspoilt beauty the world has to offer.
Today, there seems to be something of a divide. Hectic work schedules lead to time constraints and many couples are unwilling to reserve an entire year's worth of holiday leave and budget on a single trip away. Recent trends have seen the rise of the 'mini-moon' or multi stop option, where either a few days of amorous action at a short haul destination, or a longer stint flying between two or three places, is à la mode.
However, if you still dream of jetting off to somewhere exotic and relatively unscathed for some post-nuptial frolics, then the one-stop, one-off honeymoon is an absolute must.
With such a bounty of diverse destinations close by, we're literally spoilt for choice in the Northern hemisphere. Big on culture and short on travel time, European cities can satisfy practically any travel agenda. With mountains, snow and a Mediterranean coastline and archipelago of islands strewn from the Atlantic through to Greece and Italy, a mixed bag of quick-stop honeymooning can fulfil your fancies' flight.
The order and duration of your multi stops can be self-dictated, but does require some pre-planned consideration, especially concerning flights and activities to be undertaken. Many couples are opting for a few days of city touring followed by several days of adventurous activities, such as skiing, rounded off by some beach or country lounging.
You're always wise to net an escape to Paris. It is still synonymous with romance and there are a number of valid reasons why: the epicurean food, the quality wine, the lulling language, couples gazing in adoration at each other everywhere…
Historically and architecturally, of course, it's packed with some of the world's most recognisable buildings, including the ubiquitous La Tour Eiffel, Le Musee du Louvre, L'Arc De Triomphe, Châteaux Versailles and Notre Dame, amongst others. It is a stumbling city that you can easily discover whilst drifting on the Parisian boats or on foot as you meander the bright light-lined streets that afford especially stunning views at night.
From personal recommendation, there are some glorious restaurants and shows that ooze romantic appeal. In particular, it's worth locating Moulin Rouge, Lido and Pau Brasil along the Champs-Elysées. When you've wandered the city and enjoyed the numerous parks (seek out the Jardin du Luxembourg), there's a tally of honeymooner's hotels to flock to, including the gorgeous Hôtel des Grands Hommes Paris and Hôtel Regina Paris.
City slicking over, a less tourist-populated isle my well be a more striking proposition for musing poetic with your sweetheart as opposed to flashing your glowsticks in Ibiza or lager louting with Brits abroad elsewhere.
Madeira makes for a classy island reprieve, generally attracting a more mature clientele. Often referred to as the 'floating garden of the Atlantic', it's not just horticulturalists that will appreciate the world-class gardens and natural landscapes of the island. Quinta Magnólia is a revered example that also features an open-air pool, tennis, squash courts and running path alongside the river valley.
Nip over to Porto Santo, the former home of explorer extraordinaire, Christopher Columbus. With nine kilometres of soft sands flanked by a modest collection of hotels and restaurants, this relatively undiscovered Atlantic gem is a guaranteed escapist's reverie. Allow the volcanic lands to restore your body or indulge in some activity on the international golf course; go diving in the ocean or head horseback into the rugged island's interior. Try the five-star Pestana Porto Santo Hotel for everything you could possibly want from a flawless beach retreat.
You may not necessarily want to travel days to get there. Though the Caribbean and Indian Ocean are still classed, quite rightly, as amongst the cream of honeymoon hotspots, there are a bevy of A-star alternatives that are closer to home in time but worlds apart in place.
Africa. A continent as diverse in landscape and atmosphere as its people. Forgo thoughts of the northern countries' mass-market appeal and consider an intrepid trip west to the stunning cocoa haven and heady hospitality of Ghana. Fly in to the country's vibrant capital, Accra and you are instantly transferred into a world of welcome or "akwaaba" everywhere you go.
There are a number of activities and sights that are absolute must-sees. Find the country's historical narrative by visiting the tranquil Mausoleum of the nation's founder, Kwame Nkrumah and the soul shattering slave castle of Elmina (Africa's oldest existing European building of any kind) through to the country's modern grandeur via the Ohene Djan Stadium and monumental Independence Square.
The Cape Coast offers a rich variety of experience. Take an excursion to Africa's sole rainforest canopy walk in Kakum National Park where the treetops linger at over 100ft above the ground. Follow up with an oceanic interlude of palm-fringed exotica at Coconut Grove or Ampenyi or any of the stunningly wild beaches along the coastal road.
If you're seeking some five-star beachside luxury, then this more intrepid and undisturbed destination is a sure fire box ticker. Both Labadi Beach Hotel and nearby La Palm Royal Beach Hotel possess the coveted highest grading, overlooking a popular and naturally pretty stretch of unspoilt sand. Labadi boasts a trio of excellent restaurants, a health club and sauna amidst the architecturally impressive grounds and paradisical gardens that home swimming and lounging facilities aplenty. Alternatively, three-star Nogahill Hotel, near the airport, will satisfy a smaller budget; as one local assured me, its acclaimed international restaurant serves "the tastiest meat pies in the world".
Other delights on the local restaurant or 'chop bar' menus include starchy staples jollof rice, plantain and yam (including a deliciously seasoned form, kalawole), kenkey, fufu, banku and tuo zafi (or TZ) that can be ordered and served alongside a mixture of mostly peppery soups and stews. Featured meats include goat, beef, guinea fowl, chicken and fish.
For shopping and souvenirs, prepare to haggle at the National Cultural and Arts Centre and Makola and Kaneshie markets, which offer a wide range of curios, from beads and cloth to carvings, food and clothes. Be en vogue savvy and ride the current wave of African fashion by purchasing some Ankara African print fabric or traditional kente cloth and have some custom made clothes such as a traditional boubou dress created as a classy gift or memento. Another superb yet lesser-known outlet is Wild Gecko, which guarantees a quality, high finish to all of its Ghanaian and West African sourced products. Osu, the suburb south of Danquah Circle, is another commercial hotspot for all sorts of shopping, especially around the Cantonments or Oxford Street, area.
www.wedmagazine.co.uk