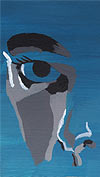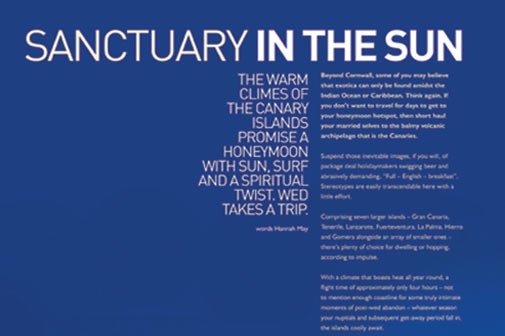 Sanctuary In The Sun
Beyond Cornwall, some of you may believe that exotica can only be found amidst the Indian Ocean or Caribbean. Think again.
If you don't want to travel for days to get to your honeymoon hotspot, then short haul your married selves to the balmy volcanic archipelago that is the Canaries.
Suspend those inevitable images, if you will, of annoying package deal holidaymakers swigging beer and abrasively demanding, "Full – English - Breakfast." Stereotypes are easily transcendable here with a little effort.
Comprising seven larger islands – Gran Canaria, Tenerife, Lanzarote, Fuerteventura, La Palma, Hierro and Gomera alongside some smaller ones (Alegranza, Graciosa, Montaña Clara, Roque del Este, Roque del Oeste und Lobos), there's plenty of choice for dwelling or hopping, according to impulse.
With a climate that boasts heat all year round, a flight time of approximately four hours only – not to mention enough coastline for some truly intimate moments of post-wed abandon; whatever season your nuptials and subsequent get-away period fall in – the islands coolly await.
Once again going beyond the call of duty, we here at WED jetted off to one of our favourite Canary Islands – Lanzarote, to give you the lowdown on some easy escapist action.
Situated approximately 690 miles southwest of the Spanish mainland and 70 miles off the West African coast, Lanzarote lies north of windy ridge isle Fuerteventura. Here, close enough to Africa to receive warm blasts from the Sahara but being part of Spain, it's an eclectic mix of influence and inviting all-round vibe.
Although one of the most barren islands, as a unique part of the Canaries' rare Biosphere reserve - it's a versatile place.
Another aspect that you can practically feel pulsing underfoot as you explore the 38 by 15 mile mountainous landmass is its earthy and spiritual power.
Healers land like locusts here in their masses because of the latent volcanic force (don't panic – there hasn't been an explosion since 1824) and its position on one of the earth's most potent ley lines that also passes through the Colorado Plateau and Plateau of Tibet.
Historically, it is believed to be a lasting vestige of the great Atlantis civilization, which furthers its mythical allure and strange, magnetic-like pull, ranking it as one of the world's best 'power spots'. So sporty or spiritual, from beach to mountainside – Lanzarote truly is hot to trot.
Hit the beach. It simply has to be done. There are three main resorts. Playa Blanca, in the south and furthest away from Arecife Airport, spots Fuerteventura in the near distance - a 15-minute ferry ride away and well worth the extra effort. Regarded as the most upmarket, the restaurants and shops here are amongst the best, though I recommend scouting for local villages like El Golfo for an authentic Spanish menu in the ultra friendly company of native residents.
Puerto Del Carmen is the biggest, more family oriented with larger complexes. Long beaches such as Playa Grande run parallel to the main commercial stretch, the Avenida de las Playas – spilling cafes, bars and restaurants.
The smallest, quietest resort of Costa Teguise is the only one north of the capital and airport. Windsurfing here, as in all places, is amongst the best in Europe.
In addition, scuba diving and snorkelling are understandably popular with the oceanic wildlife and underwater vistas, with schools and hire outlets scattered throughout all resorts.
Get Cultural. Go to Taro de Tahiche and visit acclaimed Eco-architect César Manrique's former home-turned-foundation. His designs can be seen all over the island – from the stunning Jardin de Cactus to Jameos del Agua – Manrique's underground world with white crab-infested saltwater lake and large acoustic auditorium.
For art, find the Castillo de San José, home to the Museo International de Arte Contemporáneo – replete with paintings, sculptures and sketches from internationally renowned Canarian artists.
Head north. Hire a car and take to the (right-hand drive) road. For the highest mountain range and breath snatching views seek out the very tip, near Órzola, to find the land's end at Manrique's extraordinary lookout point and glass-fronted café at Mirador del Río. Here, marvel more architecture alongside otherworldly, La Graciosa (a diminutive, sparsely populated isle, secret surfers' spot and ramblers' dream) and neighbouring islands, Montaña Clara and Alegranza, as they appear to drift out of Atlantic view.
Visit Timanfaya National Park. First, take a detour on camel back at the entrance and then drive through this massive park that hosts the world's only volcanic restaurant – El Diablo, another Manrique creation. Bus tours around the Montañas del Fuego (Fire Mountains) run regularly, affording some rare geological and fantastic panoramic sites.
Feel the heat in the warm topside rock and watch demonstrations of various burning/cooking objects off the back of the volcanic heat emanating from below.
For high-end hotel chic book in at the Gran Meliá Salinas – on the beach at Costa Teguise with a Manrique designed lobby and hibiscus flowers as far as the marble-walled toilets. www.solmelia.com
Holistic Holidays are a sure-fire way to spiritual and bodily bliss, offering yoga, therapies and nutritious food at tranquil retreat, Villa Isis, near Tias. www.hoho.co.uk
Princess Yaiza in Playa Blanca is Hispano-Arabic themed and offers Mexican, Italian and Japanese foods amidst its five restaurants.
www.princesayaiza.com
There's an array of choice offering everything from traditional tapas, paella and fish menus through to specialised, ethnic foods.
Escape the resorts to the villages inland such as Haría, where Dos Hermanos will sate your Canarian appetite with seafood, goat (cabra) and rabbit (conejo).
Alternatively, save your quids for Caserio de Mozaga in San Bartolemé – a converted barn renowned as one of the best restaurants on the entire island.
For fish lovers, race to La Lonja de Fondeadero in Puerto del Carmen, regarded as the premier place for seafood or get your mojo (a tasty traditional sauce whose basics are tomatoes, peppers and paprika; versions and ingredients vary) at Brisa Marina in Playa Blanca. For something altogether different, Basque-style is served at La Ola and Italian at El Patio, both in Costa Teguise.
www.wedmagazine.co.uk