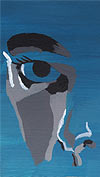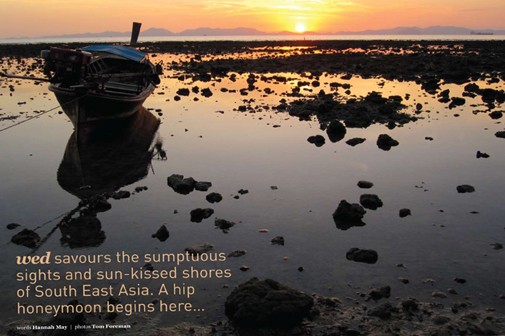 Eastern Promise
Asia. The word alone emerges from the mouth like a purr. It conjures an assortment of images, from exotic realms to the manic bustle of the city streets and stunning array of unspoilt sands. Encompassing a vast area that houses a huge mix of geographical and cultural lands, the continent boasts some of the world's most breathtaking islands, mountains, rivers, beaches and lakes – not to mention, wildlife, climate and people. If that's not enough to whet your wanderlust, the food, arts and religious artefacts are amongst the most coveted and revered the planet has to offer.
Deciding on a specific destination is tough with so much choice. But in one area, you can sample many sides of the vast continent and experience a country in its own right. Whatever your travel agenda, South East Asia will deliver it with charm and gusto. If you want a different destination but maximum convenience, there's a pick of resorts. If you seek adventure, the scenery reads like a Tabula rasa for you to draw your own itinerary and imagination upon.

Awash with honeymoon destinations of all varieties, it's especially apt for the intrepid. But whether you wish to loaf, pilgrimage or busy your way through your newly wed period of downtime, consider a selection of Wed's top-pick places of eastern delights…
Located in the Indian Ocean, on the southeast tip of India, the island of Sri Lanka presents as a laidback version of its continental mainland, yet it has its own distinct personality and unique set of qualities. Colourful, hospitable and achingly beautiful, Sri Lanka is a coolly charming honeymoon destination full of flavour – from food to palm-fringed beach escape.
The area south of the capital Colombo is replete with postcard pretty beaches that will instantly transport you into holiday mode. Head south to Hikkaduwa, which maintains a relaxed feel and relatively uncommercialised vibe, despite being one of the island's most popular destinations. Surfing is especially good here (alternatively, venture west to Arugam Bay), otherwise you can fish, snorkel, dive, shop, loll, eat, stroll and sunbathe your time away in sheer splendour.
Mirissa is a quieter, more upmarket spot that is ideal for unspoilt, romantic relaxation. The sweeping bay offers good snorkelling and there's even a small beach break in the corner for a wave-riding fix. Other recommended coastlines include Unawatuna, Matara and Tangalla, where you may observe turtles nesting at the Turtle Conservation Project in nearby Rekawa.

The inland area is not to be missed. Venture to Kandy and wander round the beautiful lake, visit the infamous Temple of the Tooth or take an excursion to the Elephant Orphanage at Pinnewala. This area of hill country encompasses a range of sights and places, from the countryside seclusion of Ella through to the ancient cities and ruins such as Anuradhapura and Polonnaruwa.
Adam's Peak (or Sri Pada) is one of the most famous places in Sri Lanka. At 2224m high, this holy mountain is sacred to Buddhists, Hindus, Muslims and Christians alike. It is an epic pilgrimage site that sees the elderly, young and incapacitated embark upon the arduous climb to the summit to pay homage to the revered footprint. Time your climb to coincide with a sunrise from the peak and the humbling view will certainly steal your breath if the 7km climb fails to.
A hugely underrated country of striking beauty and pristine natural landscapes, South Korea is refreshingly free of tourist tracks. A land as lively as it is lush, the country is a formidable fusion of mountains, islands, temples, coastline and countryside that all betray its ancient history and spiritual values.
The southwest peninsula epitomises much of the country, and the province of Jeollanam-do hosts over 2, 000 islands, three quarters of which are uninhabited. Wando is a quaint fishing county from which you can explore the oceanic isles, jump on the ferry or fly to picturesque Jeju – a favourite honeymoon destination for locals.
Other places worth visiting include Suncheon – a boat trip around Suncheon Bay and a walk up the mountains is a must; marine city, Yeosu, which will host the 2012 EXPO 'The Living Ocean and Coast'; and Boseong County where you can wander around the maze-like plantations and sample some of the world's finest green tea.
Seoul is more than just a stop over. Classed as an Alpha World city, Incheon International Airport has been voted as the world's best airport since 2005.
It's cosmopolitan, but still Zen-like in feel, offering the shopping, dining and nightlife of an Asian capital city but with a skyline as nostalgically ancient as it is strikingly modern.
Architecturally, Seoul is home to the 'Five Grand Palaces' and a series of impressive walls and fortresses from the Joseon Dynasty designed to protect the city from intruders. With a plethora of Confucian shrines, Buddhist temples, museums and parks in the mix, it's definitely worth scheduling a few days' exploration.
There's a place for everyone in this cosmic, charismatic and often confusing country. Searching for it is part of the allure: that perfect beach that secretly exists around the next towering limestone cliff may well transpire as an elusive dream, or lucky reality. Whatever your niche, Thailand aims to deliver. Finding your feet in jungle, concrete or sandy terrain, its eclectic fusion of influences, histories and culture is a mesmerising mix.
Most visitors proceed south. Despite its tourist population, there's such a plethora of places and activities that every experience is automatically individualised. The abseiling and diving locations here are world class. Take base in Krabi or nearby Ao Nang for easy island and beach hopping. Hitch a long-tail boat to any of the host of stunning islands or beaches or hire a kayak for self-exploration. Railay Beach is exquisite and features exclusive first-rate accommodation and gorgeous panoramas.
Alternatively, Phuket lingers to the west, providing another convenient location for island exploration. The north and inland areas are less frequented and untouched, otherwise the south and southwest areas are best avoided by solace seekers.

The north is practically the polar opposite in many respects. Bangkok is a vast city, minus the oceanic reprieve or dramatic vistas. However, the shopping is amongst the best in Asia, whether you experience it at infamous backpacker frenetic Th Khao San, any of the surreal floating markets or labyrinthine Chatuchak Weekend Market.
Must-see historical monuments include the Grand Palace, Thailand's most renowned monastery Wat Phra Kaew and the country's largest reclining Buddha, Wat Pho, though a huge assortment of equally striking temples await your awe.

To the north, the jungle and lush interior awaits. From Bangkok, organised excursions to Chang Mai or even Burma, Laos and Cambodia can be arranged. However, public or private transport offers independent travellers the opportunity to explore these less popular areas, literally, to their hearts' desires.
www.wedmagazine.co.uk