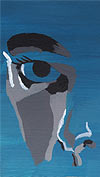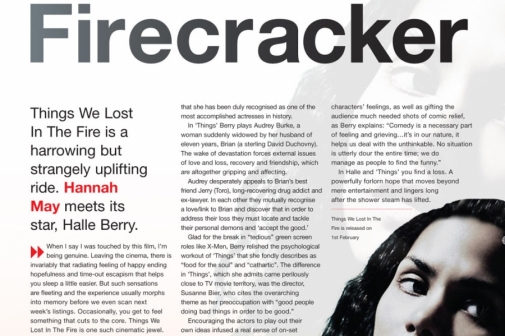 Halle Berry Interview
Things We Lost In The Fire is a harrowing but strangely uplifting ride. Hannah May meets its star, Halle Berry.
When I say I was touched by this film, I'm being genuine. Leaving the cinema, there is invariably that radiating feeling of happy ending hopefulness and time-out escapism that helps you sleep a little easier. But such sensations are fleeting and the experience usually morphs into memory before we even scan next week's listings. Occasionally, you get to feel something that cuts to the core. Things We Lost In The Fire is one such cinematic jewel.
It could be because they let a Dane behind the steering wheel, or perhaps a far more superficial reason - its success beaming off the bathroom walls courtesy of the sheer sexiness of Benicio Del Toro's fabulous shower scene. But considering another factor - and watching it waltz into The Dorchester - confirms why the production is so premier: it has the Berry factor.
Sitting opposite a star in the flesh and hearing it self-articulate with enthusiasm, intellect and wit is both bubble bursting and inflating. On one level, I like to think that actors are automatons: unthinking producer's puppets who are simply easy-on-the-eye audience netters. But I have to be honest when I succumb to one of this calibre - and not meaning to sound too sycophantic - Halle Berry is as impressive as they come.
Whilst some may quibble over her legend status, you cannot deny her cool composure, meltable looks and acting prowess. Her performance in Monsters Ball bagged her the coveted little golden man (named Oscar), meaning that she has been duly recognised as one of the most accomplished actresses in history.
In 'Things' Berry plays Audrey Burke, a woman suddenly widowed by her husband of eleven years, Brian (a sterling David Duchovny). The wake of devastation forces external issues of love and loss, recovery and friendship, which are altogether gripping and affecting.
Audrey desperately appeals to Brian's best friend Jerry (Toro), long-recovering drug addict and ex-lawyer. In each other they mutually recognise a love/link to Brian and discover that in order to address their loss they must locate and tackle their personal demons and 'accept the good.'
Glad for the break in "tedious" green screen roles like X-Men, Berry relished the psychological workout of 'Things' that she fondly describes as "food for the soul" and "cathartic". The difference in 'Things', which she admits came perilously close to TV movie territory, was the director, Susanne Bier, who cites the overarching theme as her preoccupation with "good people doing bad things in order to be good."
Encouraging the actors to play out their own ideas infused a real sense of on-set freedom that poured into the screen, which Berry says makes you "indelibly better because you are much more open than you would be otherwise – you're not fighting against something – you feel very much like you're a collaborative part of the whole experience." In addition, Bier's editing practices transformed the linear script to a non-linear, art house type production that, with her micro camera technique, maintained her signature style through an "organic process".
Del Toro's achingly good performance imports facial and vocal expression amongst an unrivalled sense of timing. This idiosyncratic mix of humour and pathos was an apt device to explore the situation and characters' feelings, as well as gifting the audience much needed shots of comic relief, as Berry explains: "Comedy is a necessary part of feeling and grieving…it's in our nature, it helps us deal with the unthinkable. No situation is utterly dour the entire time; we do manage as people to find the funny."
In Halle and 'Things' you find a loss. A powerfully forlorn hope that moves beyond mere entertainment and lingers long after the shower steam has lifted.