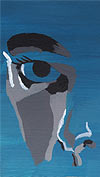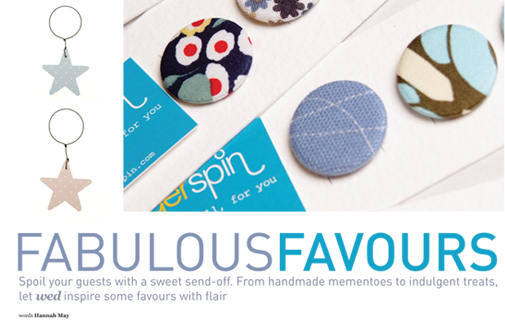 Fabulous Favours
Sugared almonds may seem par for the course when it comes to wedding favours, but trace their history back and the tradition originates from the aristocracy. It is believed that the first wedding favour was the 'bonboniere', a small porcelain or crystal box containing sugar or confectionery, which were given by upper class families at weddings,
christenings and other special occasions.
Sugar was an expensive commodity at the time, but as its availability increased, the tradition became more widespread until it was replaced with almonds – five would be given to symbolise wishes of happiness, health, fertility, wealth and long life. The thirteenth century saw sugar coated almonds being introduced, which has maintained popularity since.
Today, the sky's the limit. Decorative, functional and individual, favours are a unique way to express your thanks whilst extending your theme.
THE KEEPSAKE
Badges
Both kitsch and classic, these ultra funky badges from Gingerspin are a novel gift  idea. Handmade in Cornwall and with each one boasting a unique design, your lady guests will love to individualise their clothes, hats and bags with these cute accessories.
Gingerspin  www.gingerspin.com
Cornish daisies and mini dotty stars
Hand painted wooden daisies and dotty stars make endearing offerings for your nearest and dearest. Full of character and Cornish crafted, you'll be spoiled for choice with the creative range of keepsakes, available in a range of colours.
Lillies  www.designsbylillies.co.uk
THE INDULGENT
Willie's Delectable Cacao dark chocolate bars
Deliciously dark and classically packaged, there's a storm of popularity raging over Willie's chocolate range for a reason. Indulge your guests with some melt- in-the-mouth goodness - just make sure you over order so you can feast on the luxurious leftovers.
Willie's World Class Cacao  www.willieschocolateshop.com
Handmade chocolate shapes, chocolate truffles and favour boxes
Available in a range of shapes, colours and flavours, Nicky's delectable handmade chocolate favours serve up a real tasty treat whilst beautifully complementing your personal theme and colour scheme in the process.
Nicky Grant  www.nickygrant.com
Little boxes of love filled with two champagne truffles and white engraved chocolate heart
Stunningly packaged, these decadent truffles come with a cool champagne kick, while the creamy chocolate heart makes an equally delicious – and oh so romantic – gesture.
Hotel Chocolat  www.hotelchocolat.co.uk
THE CORNISH
Milk Chocolate Pasty
Remember the mantra: pasties must make an appearance at a proper Cornish wedding. And nothing beats a solid chocolate pasty for a moreish homage to your homeland.
The Candy Company www.cornishfudge.com
Cornish Lust strawberry and cream liqueur
Smooth, creamy and fruit  not to mention Cornish - treat your guests to some Lusty liqueur for a fix of pure indulgence.
www.cornishlust.com