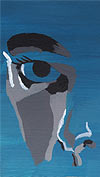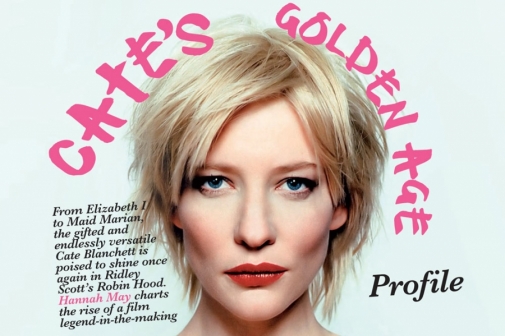 Cate Blanchett Profile
From Elizabeth I to Maid Marian, the gifted and endlessly versatile Cate Blanchett is poised to shine once again in Ridley Scott's Robin Hood. Hannah May charts the rise of a film legend-in-the-making.
The original 'Tim Tam' girl, this luscious lovely is far more than a chocolate biscuit advert. Apart from her association with some of the tastiest teatime treats in the world, she is also apparently one of us higher beings who enjoys list making and crossing off.
If that's not a telling hallmark of sheer quality of character, professionally she is courted by directors as a child chases candy, having netted critical acclaim and countless nominations and awards - including the elusive Oscar.
Arguably best known for her role as a fairy queen, which perfectly symbolises her magical allure and serene beauty, this affable actress can be recalled for a huge variety of roles as she continues to transcend typecast control. Please acknowledge the unfailing grace and immeasurable charm of Cate Blanchett.
Of French descent but Australian born and bred, her Texan naval officer father died when she was ten. The event obviously blighted her "part extrovert, part wallflower" childhood self, which allegedly longed to live in a haunted house so that she could see him again.
Raised alongside her brother and sister by her schoolteacher mother in Melbourne, she is now a mother herself to three children. Cate married playwright Andrew Upton after meeting him during her 1997 appearance in Chekhov's, The Seagull. Initially regarding him as 'aloof', a single kiss swept her away, as did, apparently, his passion for Russian novelist, Turgenev.
Establishing herself primarily as a stage actress, Cate's first major role after graduating from Sydney's prestigious National Institute of Dramatic Arts (NIDA) was opposite Geoffrey Rush in Oleanna (1993). But her acting career traces long before that. At college, she was the Drama Captain, appearing in numerous plays before scrapping Melbourne University's Fine Arts and Economics programme to travel. She visited England and then Egypt, where her first film role as an extra in a boxing movie mortified her, but afforded her a taste of the type of power actors could harness.
Following a spate of post-Oleanna plays (as she admits: "I'm one of those strange beasts who really likes a corset"), she branched into TV before her first motion picture, Paradise Road (1997), with Glenn Close. But her role in Oscar and Lucinda (1997) opposite Ralph Fiennes led to her Golden Globe-winning performance in Elizabeth (1998).
Along with the three Lord of the Rings films (which she apparently accepted due to what may be cited as something of an ear fetish: she accepted the role only because she wished to feature in a film wearing pointy ears - the prosthetics of which she kept and had bronzed after shooting), she has amassed an extensive filmography.
Stand-out roles include The Talented Mr Ripley (1999), Bandits (2001), Veronica Guerin (2003), The Life Aquatic with Steve Zissou, The Aviator (2004), Little Fish (2005), Babel (2006), The Good German (2005), Notes On A Scandal (2006), Indiana Jones and the Kingdom of the Crystal Skull (2008), The Curious Case of Benjamin Button (2008) and this year's anticipated blockbuster from Ridley Scott – Robin Hood.
Intelligent, discerning (when asked if she ever appeared in Neighbours she replied: "absolutely not. I'm an actress") and accessibly 'real' (four out of her five Oscar nominations have been for playing real people), star number 2367 on the Hollywood Walk of Fame is most certainly a leading lady.