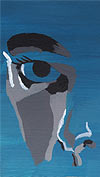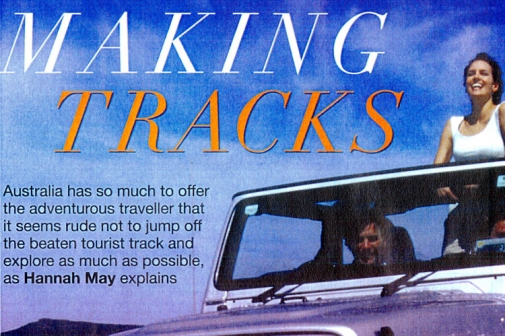 Making Tracks
I thought I was born to loaf. To do other things, yes, but primarily to snare every kickback opportunity available. Growing up on the beach reinforced this attitude, but also spawned its unfortunate antithesis: adrenaline desire.
I would like to claim for Australia the Loafability crown. It probably deserves it, but that's not really the point. Fact is, that there's so much to do, it's pretty much impossible to just lounge all the time.
When you've saturated your skin with sun and lulled your way lazily through time, an injection of action is needed. And no one does it like the belly of brawn Down Under.
Outdoorsy and sports-oriented Aussies are activity junkies, immersed in a seemingly endless array of physical adventures. Surfing, scuba diving, white-water rafting, water skiing, paragliding, bungee jumping, horseback riding, skydiving…there's enough for everyone and something to suit all. But if you're like me, and being strapped in or on (sport depending…) something isn't appealing, what you need is off-road.
With so much of our lives seemingly being mapped out and paths constantly laid before us, the chance to follow whims and track our own way is a highly tantalising, even if slightly more unnerving, option.
But it's fantastic fun, a great way to stumble across places you may not otherwise know existed, and I should know; I've 4x4'd my way across Frazer Island, quad biked outside Cairns and mountain biked through the Blue Mountains, albeit interspersed with my requisite sun worship.
Sand Sports
There are plenty of companies that specialise in 4WD trips to and around Frazer Island. We booked our self-drive tour in advance, but it's possible to head straight to Hervey Bay and try your luck, as it's such a popular thing to do that even at the busiest times someone is bound to accommodate.
Depending on the company, you're required to attend certain briefings about safety, driving and the environment. I'd recommend being attentive to these as there's always someone, fancying themself an action-driving hero, who invariably gets stuck in the sand with no idea how to get out.
Following talk of dingoes and disaster stories, jump aboard the ferry and on to the world's largest sand island for some serious escapades.
The island has wildlife in abundance. Mosquitoes are wildlife, aren't they? And sand flies - which bite everywhere. There's a fair amount of sand as well, which gets everywhere. Yes – everywhere…
There are rainforests too, 200 freshwater lakes, massive sand dunes and an amazing array of dangerous animals; think snakes, spiders, sharks – the usual suspects, really.
We were in a mixed group of nine, and driving was shared out amongst those gagging to take the wheel. Despite a Miss Daisy driving German and wayward Welshman, most people fared well enough.
Near bollard smashing and over-turns aside, I loved driving the 4x4, especially down the vast East Beach, where stop-offs included the icy fresh water Eli Creek and famous Maheno shipwreck. The buzz of burning through such devastatingly beautiful landscape with the pacific to my side felt incomparably good.
We cooled off, Jacuzzi-style, in the seawater Champagne Pools and marvelled at manta rays and turtles at the cliff-top Indian Heads.
Further off-road - walking barefoot through the forest to Lake Wabby was admittedly not my best move, but my regret of ripping a bull ant's evil fangs from my rapidly paining foot was pacified by swimming in the rain alongside tiny, dead skin nibbling, fish as eagles eyed us from above.
Camping itself is always an adventure, but there's nothing like setting up at dusk being feasted on by hundreds of March flies. The dingoes are quick to appear (feed them and be fined), but once utter darkness claims the skies every thought centres on the star show and your senses relish the night. For me, the romance was shoved aside by the reality of a storm and a drenched flapping tent that flooded instantly. But I forgave the rain the next day when the skies belted out the brightest blue at Lake McKenzie on our final stop, affording me one of those hippy-type cosmic moments that tend to strike me on such stunning occasions.
After some serious sand sinking and swerving misses, we successfully negotiated the 4WD's transition from sand to tarmac intact, our nature-bound action fix-out accomplished.
Water Adventure
Although the lagoon was an ideal place to relax and poeticise, the hinterland of Cairns was a hidden adventure playground that beckoned beyond. What better way, I mused, to mark my birthday than by making tracks through the rainforest at speed caked in mud on a quad session?
With no license required and vehicles to suit all abilities and ages (from age 14 upwards), quad biking is a great way to plough headlong into a new environment.
Having smugly ticked the 'pro' box on my form for having years of quad biking experience before (as a beach lifeguard), I was keen to compare driving on the beach with manoeuvring through trees and over rocks. Others in the group were first timers (I silently put bets on who would be handle bar-fliers), but the pre-biking safety instruction talk bolstered confidence.
With the option to leave the ATVs (All Terrain Vehicles) in automatic, I chose to go manual, which I found easier and allowed greater control, determined as I was to make this a competitive event.
We were able to let rip for two and a half hours, following the trusty helpers (loosely) who enjoyed the experience as much as the rest of us whilst simultaneously acting as guides to the area.
In Kuranda (about 45 minutes from Cairns), the surroundings were perfect; mountain trails, fields and mud pits, tree-trunks, boulders and lagoons of dam water to plunge into, there were plenty of natural obstacles to jazz up the experience.
With some fabulous lookout breaks – including the celebrated view of private celebrity haunt Double Island and spanning coast - bush plus bikes was an off-road combination I'd recommend for a real dirt-ridden kick, although certainly not one for the faint-hearted or unsteady on their wheels.
Taking It Easy
I went to the Blue Mountains for the chill out factor. With a spa retreat and oodles of space, I was on to some top-notch Me Time.
It's hard to describe the vast terrain though, and quite another to decide how to enjoy it. With a National Park comprising over ten thousand square kilometres of forested landscape on a sandstone plateau, you are truly in wilderness unimagined.
It seemed that an amble through the mountains would be the best way to take in the magnificently sculpted land whose overarching blue haze derives from an ultrafine oily mist secreted by the eucalyptus trees. But with days by the pool merged with slow rambling, another angle was needed. An edgier mode of exploration called to mind and muscle fibre – the magnificent mountain bike.
There are thousands of miles of 'Fire Trails' – ridge lines that traverse the escarpment, so crowds and pressure aren't an issue: the ante is as high as you want it to be.
Whatever your competences, there's a track to match. Cars aren't permitted on most of them, allowing you to access all the areas your tyres choose to tread. For those of you who, like me, share a somewhat wobbly relationship with anything of a two-wheeled nature, the Narrowneck and Oaks Fire Trails are easier, downhill-favouring alternatives to the steep ascending denouement of the Mt York Trail blaze.
The guides tailor the activity and follow the vibe set down by the group and individuals within it, so don't fear that you'll be left behind or dragged into pedalling your technical best when you'd rather be taking a quiet moment with the Three Sisters. If you opt to feel the burn for whole or half days, the magnificence of this World Heritage site is amplified at speed with the endorphin thrill of mountain biking your way. Off-road and exercising your behind, the pool recliner can wait another day.