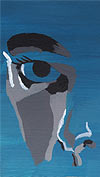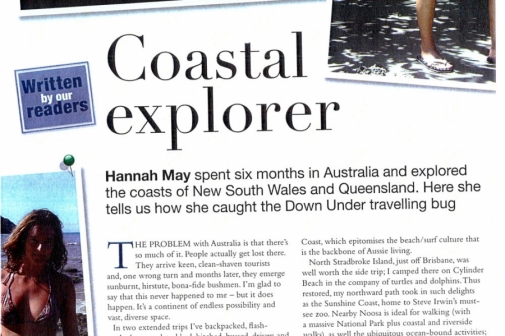 Coastal Explorer
The problem with Australia is that there's so much of it. People actually get lost there. They arrive keen, clean-shaven tourists and, one wrong turn and months later, emerge sunburnt, hirsute, bone fide bushmen. I'm glad to say that this never happened to me – but it does happen. It's a continent of endless possibility and vast, diverse space.

In two extended trips, I've backpacked, flash-packed, camped, hitched, trekked, bussed, driven and cruised my way around with various friends and family. And adored every different, unrepeatable moment of it.

Like many people entering the country – I began in Sydney. And then I ventured north. After various stop offs including the North Coast, the Central Coast and the lovely hippified, Byron Bay, one of my favourite places was the Gold Coast, which epitomises the beach/surf culture that is the backbone of Aussie living.

North Stradbroke Island, just off Brisbane, was well worth the trip; I camped there on Cylinder Beach in the company of turtles and dolphins. Thus restored, my northward path took in such delights as the Sunshine Coast, home to Steve Irwin's must-see zoo. Nearby Noosa is ideal for walking (with a massive National Park plus coastal and riverside walks), as well the ubiquitous ocean-bound activities; and planning restrictions ensure that it will not become over-developed.

Following the Frazer Island experience and some acutely needed respite in 1770 (the town, not the year), Airlie Beach's gateway to the Whitsunday Islands deceived me. As nice as it was, I wanted the proper picture-postcard spot as promised, not tourist bars and torrents of tropical rain (I've always somehow timed my trips to coincide with the rainy season). But the day we sailed was sunny and the trip was absolutely terrific.

Hidden beyond Airlie's tourist-happy caterings, there's a parallel world - a tropical island paradise of unspoilt rainforest islands and pure white beaches fringed with coral.

I slept on deck blanketed by a sky-full of stars from Sirius to Spica and the Milky Way. Whitehaven Beach was the scene for some glorious full-body-lycra-suit posing (as a result of it being 'stinger season', not out of personal style choice). And further island hopping yielded some amazing locations for snorkelling and celebrity honeymoon spying.

Mission Beach and the thrills of white water rafting were succeeded by Cairns and the Great Barrier Reef, where I learnt that my love for everything ocean did not transcend my general incompetence of being weighted down with breathing apparatus 15m under. Needless to say, I wasn't a natural. But despite my death fears, I gleaned a certain enjoyment and sense of wonder from the surreal experience.

Mountaintop Fitzroy Island and its Nudey Beach was uplifting and relaxing, despite the several men I encountered there who decided to take the beach's name literally. Snorkelling with these fellows was something of a feat, as everything tendril-like must be avoided on the basis that it could be either poisonous, stinging or lethal. They certainly had plenty of nerve. And I had plenty of amusement.
With all of the jellyfish and croc talk, I went further up the coast. Port Douglas was another tropical charm, and Cape Tribulation, with its mangroves and forests and wildlife, was nature untamed. The Daintree Rainforest is a World Heritage Site that ushers awe-inspired into a whole new realm.

Various other stop-offs and excursions in far north Queensland's environs and hinterland included Mossman Gorge, crocodile hunting on the river, and the stunning waterfalls among the Tablelands.

Despite often feeling like pure mosquito bait, my love for Australia was instant and addictive. I had encountered mere snippets of it - my paths randomly scattered and fired by whim - but filled a total of over six month's worth of gallivanting, creating memory after memory. If you've gone there once, you have to go back. Because in whatever way and wherever you go, by losing yourself to it, you emerge so much richer.