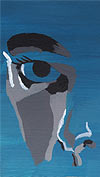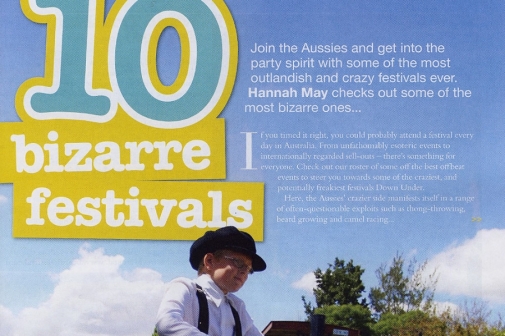 10 Bizarre Festivals
If you timed it right, you could probably attend a festival every day in Australia. From unfathomably esoteric events to internationally regarded sell-outs – there's something for everyone. Check out our roster of some of the best offbeat events to steer you towards some of the craziest, and potentially freakiest festivals Down Under.
Here, the Aussies' crazier side manifests itself in a range of often-questionable exploits such as throng-throwing, beard growing and camel racing…
Compass Cup
January
Set off South to Mount Compass (near Adelaide), where rural life is commemorated with idiosyncratic and brawny gusto. A variety of 'cow-themed' events such as Milk Loading, the Tractor Pull and the Rubber Boot Marathon culminate in the beefy climax – the Compass Cup: Australia's only cow-riding competition. Leather chaps at the ready…
http://www.compasscup.com.au/
Parkes Elvis Festival
January
If you think you can endure throngs of warbling Elvis impersonators then schedule a jaunt to New South Wales' Parkes for its five-day quiff-tastic extravaganza. A street parade, complete with cabaret show and Elvis Golf Challenge – as well as the chance to participate in the ongoing Elvis karaoke, are but a few of the festival's focal points.
Every event in the packed programme, from a 'Hunka Hunka' pancake breakfast to collectors' memorabilia – celebrates the king of rock 'n' roll and his mighty memory.
http://www.parkeselvisfestival.com.au/
World Triathlon Festival
April
Held in New Plymouth in New Zealand's Taranaki region, a plethora of events from the hardcore BG Triathlon World Cup to beginners' try-out sessions celebrates Down Under's passion for adrenaline-fuelled competitive sport combos. Swoon at the world's best and fittest Iron Man types flanking goggle/speedo-sporting wannabes – always worth a gander.
www.worldtriathlonfestival.com
Land of Beardies Bush Festival
November
Given its multicultural heritage, it's no wonder that festivals all over the continent celebrate Australia's Celtic roots. Join in with the music and dancing and marvel at (or sign up for) the long beard competition in Scots-infatuated Glen Innes – with its weekend horseback pub-crawling and Beardie Museum - perhaps one of the weirdest towns around.
www.beardiesfestival.com/
Darwin Beer Can Regatta
July
Celebrating the Aussies. Top tipple in style, this riotous spectacle features a slalom, tug of war and a throng-throwing contest, all played out to the raucous cheers of the beer-swilling masses. The regatta comprises a fleet of boats built solely by beer cans and the Flintstones inspired Henley-on-Mindil – a bottomless, foot-powered boat that's lifted and sprinted across the finishing line – is also bound to induce a giggle or two.
http://www.beercanregatta.org.au/
Tunarama
January, Port Lincoln.
World championship tuna tossing is the sport of choice in Port Lincoln, with hammer-style throwing of this hefty fish (which can weigh in at up to nine kilos). Former Olympic hammer thrower Sean Carlin, with an impressive 37.23m record, is the man to beat. And if you've dragged the lil uns along don't miss out on the 'prawn-tossing contest' for kids, not to mention Miss Teen Tuna-rama! The more tentative can opt for the wheat sheaf tossing competition or slippery pole contest. Various (no doubt fishy) processions, a rodeo and Beach Babe competition are also on the agenda. Should you fancy getting more heavily involved, it's worth noting that the organisers are currently searching for an event manager to coordinate next year's fish extravaganza.
http://www.tunarama.net/
Tropfest
February
Celebrating the short-film phenomenon outdoors with giant screens is very typical of the Australian fest vibe. Throw in some top-name acting types as judges (past participants include Guy Pearce, Keanu Reeves and Nicole Kidman) and it's a festive formula to drop all for. With entries open to anyone (so long as the films are less than seven minutes long), the Sydney-based event is a creative blast guaranteed to provide avid filmgoers with their entertainment fix from the world of film.
www.tropfest.com
Kernewek Lowender
May
Head to the South Coast's Yorke Peninsula for the World's largest Cornish festival, which is hosted by a trio of towns, Kadina, Moonta and Wallaroo every two years, and includes a wheelbarrow race and much drinking of traditional beers. Brush up on your Cornish language skills, watch the blue-clad Bards' ceremony, don some period costume, or scoff some pasties and saffron cake to get into the Cornish mood. Kernow bys vyken, indeed.
www.kernewek.org/
Voyages Camel Cup
July
The record for this humpbacked race saw the golden camel cross the line at an astonishing 42mph. Every year, competitors try to up the ante as they fly through the tracks at Blaterskite Park, Alice Springs (or remain stationary at the starting line atop stubborn camels that refuse to budge). It's a novel sight, with belly dancers and rickshaw races to boot. The first Camel race ran along the dry bed of the Todd River in 1970.
http://www.camelcup.com.au/
Hokitika Wildfood Fest
March
Munch your way through an array of wildfoods such as huhu grubs and whitebait at this outlandish event on New Zealand's West Coast that celebrates the allure of gourmet bush tucker. If you like experimental cuisine, then this is it – big time. Those with a sweet tooth may wish to indulge in a little wasp larvae ice cream, or why not gulp down a sheep's eye or nibble on a delicious 'bull's penis sausage' (yum!) while being entertained by a repertoire of musical talent. Past highlights have featured everything from West African-style drumming to Irish rock.
http://www.wildfoods.co.nz/
Countryfest and Aussie Wife Carrying
April
For the chance to win a trip to Finland (apparently, wife carrying capital of the world) to attend the World Wife Carrying Championships, this unusual sport, which seems to hearken back to the days of the Neanderthals, is played out to the stunned crowds in the appropriately named Singleton, Hunter Valley.
Testing matrimonial fortitude as well as physical gut-wrenching strength: the event involves sturdy chaps slinging their loved ones over their backs, before trekking around a 250m obstacle course that includes hurdles and limbo. And you don't even have to be married to partake – anything goes, with mothers, aunties and sisters all being hoisted over burly shoulders. Country Fest also hosts bullriding, the Sutton Ford Ute Muster, celebrating one of the nation's favourite vehicles, plus poets and dancers.
www.countryfest.com.au
The East Coast Blues and Roots Festival
March
Strike a cool chord and mellow out at hippy central, Byron Bay, which boasts hundreds of performances by some of the best blues artists from around the world. Go bohemian and stay in a tipi for a truly hippy vibe at this all-embracing, cosmic extravaganza. This year's acts included Newton Faulkner, The Beautiful Girls, KT Tunstall, Xavier Rudd and Keith Urban.
www.bluesfest.com.au
National Penny Farthing Championships
February
This big-wheeled Tassie equivalent to the Tour de France pays homage to Evandale's 'old-worlde' ethos. The highlight of the event is The Century Ride: a tradition dating from the 1800s, it consists of a hundred-mile-long, dawn 'til dusk, groin-chafing race that is bound to challenge even the most practised riders of these quaint Victorian-style bicycles. If you fancy Tasmania around this time of year, this is real have-a-go stuff, accompanied by a village fair.
www.evandalevillagefair.com/