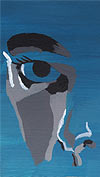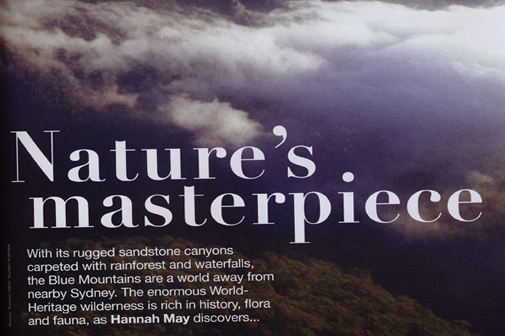 Nature's Masterpiece
Apparently, the Blue Mountains are a popular spot to die. That's obviously not what I went there to do, but the point is very telling of the place. Being told this as you stand in the absolute dark with nothing but a glow stick to cling to for luminescent salvation is not the most comforting of things. But once you think about it, it is also part of the area's allure. The fact that people choose to end their lives at such a location does not make it drab and depressing, but rather conveys its mystic sense of space, concealed depths, inquisitive beauty and coolly anonymous expanses. I'll qualify my line of reasoning before I rustle up the wrong picture and encourage people to fling themselves from the highest precipice.
One of my most striking memories of my days spent exploring this massive National Park (which covers a whopping million hectares) was my night trek. My party of three and I were led onto the skyway's Scenisender and slowly made the 545m descent into the utter darkness of Jamison Valley.
You have to imagine the scene. I'm talking about no light ahead for hundreds of miles, no sounds, no other people – nothing. It was like entering an abyss, a void, a black hole. And once we left the relative security of the cable car's docking post, our guide led us right into the heart of the darkness.
As you walk further into the wilderness, you are struck by a distinct bout of nihilism that opposes the multitude life that abounds within. Basically: you are nothing. An insignificant minor surrounded by a major life force. What remains are your senses – now forced to muster their best acute and alert mode, and the subsequent inkling of your own wits. Mine, however, frenetically decided to dwell on the fact that I was wearing flip flops, which I was adamant had provided a clear pathway up my legs for the creeps (and there are plenty of them around), or, at the least, a veritable toe-snacking station.
Better yet, the idea of snake stepping (as if it's some hip jungle dance) and the subsequent wrapping of venomous jaw around ankle had me certain that I was on the corner of where mind play meets reality. I finally felt some empathy for the contestants on Fear Factor and tried to keep to the walkways, tiptoeing sprightly like a ballet enthusiast.
However, once you trail further, your riotous imagination loses its edge, nightmare scenarios are pacified by the peace, and panic gives way to privilege. Here you are, privy to the usually unseen nocturnal antics of nature at its core, removed from societal constraint, cultural construction, and practically space and time.
Inevitably in a bid to 'set the scene', with all such horror movie connotations, our guide was also sharp to mention the number of people that go missing in the Mountains every year. Not many, as it happens, but the fact that it does actually happen had me following him uncomfortably close at times, which, looking back, may have been the idea…
Suicide stories aside, the crux is that the mountains make for a formidable, haunting host. Full of a spiritedness that is hard to define, barely tangible, and yet totally mesmerising.
Travellers haven't been able to set foot amongst the mountains for long. It took 25 years for a crossing to be successfully negotiated by Europeans. Before that, there existed a strange, long-held belief by convicts that beyond it lay the boundless freedom of China.
However, what was unearthed by the route forging was evidence of aboriginal habitation, which can be seen today in the form of archaeological sites, rock engraving and art and ceremonial sites. Of particular historical and cultural interest are the lands belonging to the Gundungarra and Darug tribal groups and a rock shelter on King's Tableland at Wentworth Falls that dates the prehistoric occupation of aboriginals back to 22, 000 years.
As you wonder aimlessly or with itinerary, it is as if some ancient aboriginal vibe persists in everything, inviting you to join the dreamtime of its ancestors and hear the legends that continue to inspire their people, travellers and historians alike. What you get in story time from the Blue Mountains transcends the carpet and milk and biscuit narratives of your early schooled youth. You are a part of the place, the myth, the people, and the characters. The voices echo throughout the lands in which they formally existed and the past is presented to you as a welcoming gift.
Perhaps my Cornish roots were stirred by the remains of historic mines, which can be seen at Blair Athol, Narrowneck and Ruined Castle, and the historic mining town of Yerranderie to the southern outskirts of the park. Either way, beyond the carved beauty and vivid eucalyptus blue coloured sky, there's an inescapable pulse of lineage and legend that calls, should you wish to place your finger on it.
In daylight, it is the actual light and atmosphere that transfixes. There's a clarity and coolness of air that you get in the mountains (it snows in the winter - apt for the region's Yuletide Festival), but it can also swelter enough to generate bush fires in the summer.
I visited on the summer/autumn cusp where warm days gave way to breezier nights; which, having just come from the hot hustle of the city, was a refreshing change of climate. The overarching blue haze stems from the eucalyptus trees that secrete an oily mist as the sun warms them. The resulting image is reminiscent of postcard or billboard: spectacularly fine details in the fore ground drawn out by the uninterrupted natural light with a gradual softening of features extending into the outback as far as your sight allows.
But don't just stand and marvel. The key is to get into the mix. And there are a number of ways in which you can delve a little deeper, however spry you feel. Off-roading isn't an option so much as a necessity, since not all roads lead somewhere and have a habit of, quite rightly, stopping for the hills. Some tracks lead into the park, but from there, it's a matter of choice or whim.
Bushwalking or mountain biking are the main two modes of transport within the mountains until you encounter the skyway (unless you fancy horseback, in which case head to Werribee). There is a bounty of tracks for foot or tyre, both of which can be either guided or self-determined.
With over 140km of walking track available, there's a slope to suit all. Kanangra Boyd National Park, southwest of Katoomba, offers a neat variety of paths that can lead you to the Jenolan Caves. Since they are Australia's most famed limestone caves, it is recommended that you book guided tours in advance during the holiday period to avoid sell-out disappointment.
Another superb walking spot is the Blackheath area, where the Grose and Megalong Valleys await your awing of their sandstone sculpted best. Lookouts worth hiking for are Govetts Leap and Evans Lookout; then continue down into the base of the valley for the marvellous Blue Gum Forest.
I meandered timelessly from Echo Point for a while eye-spying koalas, kangaroos, wallabies and wombats until I encountered the skyway and hopped on for some headily good mid-air suspension. Gravity eased off for my 7 minute flight across Jamison Valley and over the Katoomba Falls and Mount Solitary whilst the Three Sisters looked on. For those of you lacking a head for heights, keep in low-lying mind that the transparent floor showcasing the 200m drop below may not be such a wonderment-style hoot for you.
Similar, in fact, is the scenic railway – the world's steepest incline railway (boasting a 52 degree gradient), which takes you through a tunnel and rainforest 415 metres down the escarpment. Then, of course, there's the aforementioned Scenisender to contend with, which by day is another well-recommended move in the World Heritage sight-seeing stakes.
Once you've had your fill of vertigo, your appetite may swoon for less stomach churn, more treat. I'm pretty much fixed in the nothing-compares-to-a-proper-Cornish-cream-tea camp, yet I was in sensory appreciation for the Aussies' teatime tastes. It's a vested decision to abandon gorge and heathland to sample the local menus, and the Blue Mountain's array of tea rooms are the place to scamper to.
High tea in one of Australia's great Dividing Ranges may be a bit 'Brits Abroad', but don't worry about all that. If the locals offer it, it's only polite to indulge them.
Take a wonder around Art Deco central, Katoomba - a 109km, two hour train journey from Sydney, and one of the premier lodging spots. Here you'll encounter a number of fine guesthouses, hotels, resorts and antique and curio shops - not to mention cafés; where you can stay, shop or dine accordingly. Katoomba Street is the predominant place for the latter two (nip in to cinema-charmed Paragon Café), which leads down to Echo Point and the awaiting panoramas poised to catch your eye.
Amongst others, I scoffed the most delightful al fresco afternoon tea at my rather plush place of temporary residence, Lilienfels, before easing myself downhill for some more meandering and Three Sisters gazing. Also worth scouting are the tea rooms at Ramsgate Guesthouse in Oberon, a National Trust listed home that is ripe for yet more palette pampering.
If you wish to counteract the cream fest with something more cultural, the area from Glenbrook to Leura is home to the Norman Lindsay Gallery and Museum (for sculptures, paintings and cartoons bordering on bawdy by the famous artist) and Leuralla, which showcases a dandy collection of 19th- Century Australian art.
Once the daytime show is over and sundown lingers, entertainment requires a little mustering of imagination. The nightlife actually is nature at dark, and evening strolls are a quality pre-dreamtime diversion.
Before bed, if the dining becomes too fine and you require a little mental distraction, head to one of the old-school cinemas. A definite 'to do' is Katoomba's Edge Cinema. The six storey high giant screen will have you craning your neck as the Edge Movie ushers you to the most inaccessible parts of the mountains – the ultimate of virtual free dives.
Other quaintly low-rise options include the Glenbrook Cinema or classically old-fashioned Mount Vic Flicks – both worth a picture or two.
Deemed one of Australia's natural wonders, the Blue Mountains are more akin to a masterpiece. An enticing mix of rainforest, sandstone, canyon and summit, the area is a geological labyrinth made accessible by man that still reserves its forbidden, secret spots. It is altogether inviting and foreboding, mapped out and mysterious.
Only several hours from the city scapes of Sydney, it is a real-life paradigm of escapist living. A reverie-inducing respite that is equally as adrenaline fused. It provides a playground that accommodates action seekers by way of abseiling, canyoning and rock climbing activities, yet softly paves the way for a gracious amble.
Home to a startling number of wildlife, from mammals to birds, reptiles to insects – whether you encounter flying fox or tree frog, it will be an unreplicatable experience because there is simply nowhere else like it on Earth.
The mountains are a meeting place. Here, they merge outlining coast with inner outback, and tropical north with mild south. You can literally lose yourself to it in a number of entirely idiosyncratic ways. And I suppose that's why it is such a phenomenon. Whether under the sun or moon - the lands manifest. Ancient territory for the modern traveller's musing - the Blue Mountains are somewhere you could undoubtedly linger for an eternity.