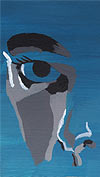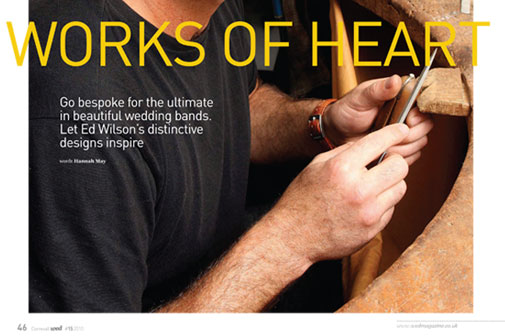 Works Of Heart
Granted: sporting a knuckleduster may be taking it to the extreme, but daring to be at least a little different can pay dividends. Your dress may be exclusive, your vows handwritten and your invitations handmade – so why compromise on the uniqueness of your wedding band and opt for the same piece as everyone else?
Bespoke is a beguiling business. And it's a movement that's encompassing every aspect of weddings. After all, why opt for the generic when an individual stamp is so stylishly easy?
Ring designer Ed Wilson believes it's all about perception: "Many people think that bespoke wedding rings will be just too expensive so don't even go and speak to a ring designer in the first place. One of our goals is to change that perception, and encourage more people to think about contemporary wedding rings that are handmade just for them."
Ed's Gauge Gallery is situated along the cobbles of St Ives and this sense of place is sharply reflected in his stunning work. His roots as an architectural student inform his intricate creations and initially spurred his avid and innate interest in design.
Ed began an apprenticeship in 2002 with silversmith Timothy Lukes and has since designed and handcrafted an exclusive and ever-expanding range of idiosyncratic jewellery.
The scope for design is extensive. "I can create rings in any metal and style to suit individual tastes and preferences. The beauty is that the ring becomes an even more personal and important part of the ceremony and the vows being made."
An aesthetic that draws from his surrounds, the oceanic environment in particular spills from his work. Motion plays a unique role in Ed's pieces, which subtly convey tidal movement, seasonal changeability and a fluidity that defines both the look and feel of each unique offering.
Whilst elegance and form are the keynotes within Ed's artistry, his tailor-made service provides distinct and personal items built to individual specifications. Many of his rings are comprised of two bands that rotate and roll over each other, further signifying the marital union and intermingling of lives. The material, design, colour, texture and shape can be specially considered through careful consultation to ensure that you receive the highest quality commission.
For a cultural twist, Ed has crafted Cornish rings bearing the patriotic colours of black and gold. Using oxidised silver and gold and a gold and Rhodium–plated ring to create the Cornish colours, Ed's latest offerings are available in both men's and women's sizes and designs. Bearing his signature – yet a singular – look, they are imbued with a rich sense of identity, adding a further dimension of distinctiveness to your wedding band.
Continually experimental and innovative in his creative endeavours, Ed has also designed a range of rings using one of the freshest materials available: palladium. A more affordable alternative to gold, this naturally white precious metal has a purity and lustre that – together with the fact that it is the least dense of the precious metals – makes it "the perfect base for creating more opulent shapes within designs."
"Palladium is named after Pallas who, in Greek mythology, was the companion of Athene, goddess of art," says Ed. "It is a light, bright precious metal, which is great to work with." The metal is also extremely hard wearing – a sought after property in a wedding band.
In keeping with the movement for vintage style and recycling, the designer also crafts Next Generation jewellery, whereby old family jewellery is used as the basis for a new piece. Whether it's the diamond from a grandmother's ring or the platinum from an aunt's pendant, elements from the original jewellery can be utilised to create a piece to treasure, which is rich in historic and emotional attachment.
To view Ed's extensive collections, which also feature other British designers such as Paul Spurgeon and Shaun Leane, pay a visit to the Gauge Gallery.