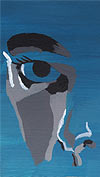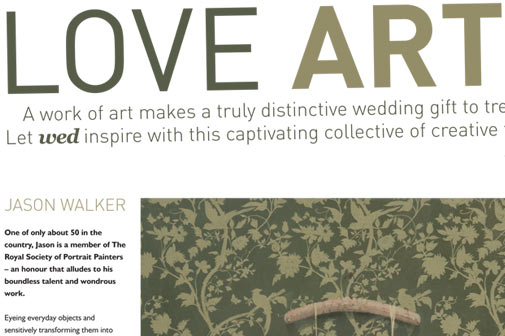 Love Art
Fed up with fine china sets and kitchen appliances? If you're struggling with the gift list issue, then step outside the box. These days, many couples co-habit before marriage and, by the time they reach the altar, they're already well stocked with all the domestic goods they need. Of course, if your kettle is kaputt or you fancy some new bed linen, it's a savvy step to create a gift list accordingly.
However, if you'd rather not deliberate over the merits between a classic and a deluxe, then why not consider something altogether different and utterly bespoke?
Art is not just for galleries and museums – something to momentarily muse upon as you rush on by whilst mentally writing your to-do list. It's a palpable and powerful entity that can serve as a stunning gift from (or to) your guests and loved ones.
Whether you believe, like Oscar Wilde, that life imitates art or you just possess an appreciation for beauty, self-expression and individual forms of representation, there is a space for it not just in the mind or heart, but in any household.
It needn't be a rare collector's item or historic artefact. Encompassing a practically infinite range of disciplines and eras, a multitude of mediums and forms – whether you wish for an ornate and one-off vase, statement piece of jewellery or pop-art print, invite art into your newlywed world.
Cornwall is a renowned artistic centre. From St Ives to the Newlyn School and all in-between, a rich and diverse collective of artists continually create timeless and personal pieces that will serve as an instant and perpetual reminder and testament of your love.
JASON WALKER
One of only about 50 in the country, Jason is a member of The Royal Society of Portrait Painters – an honour that alludes to his boundless talent and wondrous work.
Eyeing everyday objects and sensitively transforming them into characterised and subtle statements of awe and grace, Jason infuses a rare light, adding dimension and detail to produce precocious paintings.
Jason originally trained at Falmouth College of Art and now works from the Trewarveneth Street Studios, which is part of the The Borlaise Smart and John Wells Trust in Newlyn. Taking private commissions, Jason's distinct depictions and resulting variety of portraiture has seen his acclaimed career continue to flourish.
Following a number of notable exhibitions, he has amassed a tally of awards, including prizes in the Discerning Eye Exhibition, the Hunting Art Prize, the Holburne Portrait Prize and for the past five years he has exhibited in the National Portrait Gallery's BP Portrait Award.
Whether you desire a portrait or a depiction of your wedding gown, Jason takes private commissions to create a bespoke work of art, celebrating the beauty of your union in sublime style.
www.jason-walker.co.uk
DEBBIE LORD
For finely produced fused glass art, Debbie Lord's captivating range will brighten any wall space. Capturing colour and light with a focus on contemporary and cheerful creativity, Debbie's simple ethos is evident in every individual offering.
"I create pictures that make me happy and hope they evoke a positive feeling in others, either as a memento of a special place, or simply as a colourful picture to escape a grey day."
Self-taught, her innate gift for glasswork communicates her adoration for Cornwall, where she relocated to raise her family 14 years ago. Conveying calmness with a vibrant style, Debbie's bold colouring and simple shapes vividly reflect a county and culture with inspired energy.
Sourcing ideas mostly from British seascapes and coastlines, place and light informs much of her work. Debbie also fulfils commissions, fusing her idiosyncratic perspective with personal requests for an exclusive and eye-catching piece.
www.debbielord.co.uk
CALLY GIBSON
Cally's inimitable style of illustration seamlessly blends her original design with professional purpose. Covering a wide range of subjects with her storybook style, her wedding illustrations make for a defining and diverse record.
Cally's images are inspired, spirited and imbued with personal flair, while covering a selection of concepts. Her handiwork has a colourful and kitsch element, whilst capturing the magical and romantic aspect of marriage within modern media.
Producing portraits on demand, Cally has an aptitude for people portrayal that is both realistic and artistically aspirational. Whether you wish to illustrate your wedding venue, spouse-to-be or anything that conveys your coupledom – have it sketched with style for an enduring image of love.
www.callygibson.co.uk
STEPHANIE PACE
Attributing her new range of porcelain pieces to her "love of design and ceramic forms", Stephanie Pace has engaged in lengthy research and experimentations to create a stunning selection of contemporary art.
Stephanie's unique collection of finely textured ceramics, entitled 'Cubes & Bottles', echoes 1950s' design. A combined colour palette of cool but strong blues, greens, limes and turquoises, contrasts against a white and luxurious platinum lustre.
A focal aspect to the designs is the use of crude black or white outlines with 1950s' inspired designs applied using a combination of different techniques and firing processes. The porcelain forms that result include tall sculptural jugs, plates and wall art, whose shapes have a sensuous quality, betraying the juxtaposition that lies at the core of Stephanie's alluring aesthetic.
Each creation makes a stunning focal point for your living space. Browse Stephanie's work at the Lighthouse Gallery in Penzance for some fabulous gift inspiration.
www.lighthouse-gallery.com
www.wedmagazine.co.uk