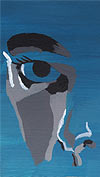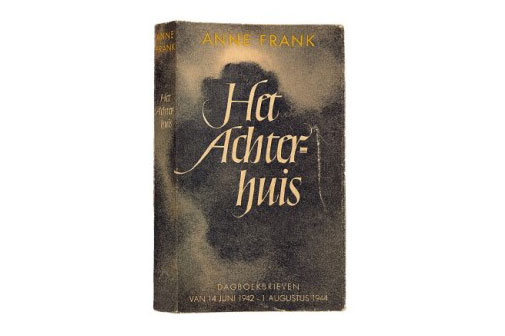 Anne Frank's Lasting Literary Impact
If I just think of how we live here, I usually come to the conclusion that it is a paradise compared with how other Jews who are not in hiding must be living. ~
Saturday, 1 May, 1943
Anne Frank. You cannot deny the phenomenon. Whether you regard her legacy as one of rare and brilliant genius, acute insight and tremendous hope, or whether you simply appreciate her tale of tragedy as poignantly representative of the plight of millions of Jews during World War II, the name alone resounds as strongly as ever.
Amidst the range of words that are associated with Anne, there is one most commonly used that describes her fame: diary.
The Story
Given to her just before she went into hiding, her inner musings formed the basis of one of the most widely debated, regarded and irrefutably seminal books ever to have emerged from modern history: The Diary of a Young Girl.
For over two years of hiding, she agonised over its content, presentation and how it could be perceived by the public upon her greatest hope beyond salvation: that it could become a published work. Some critics continue to argue that though it demonstrates a keen flair and passion for writing, it cannot be labelled as literature in its own right, preferring to refer to it as a Holocaust document.
However, many maintain today that it deserves to stand amongst other great, canonical works, as Francine Prose argues in her deliberations on the diary in Anne Frank: The Book, The Life, The Afterlife.
Centering on the argument The Diary of a Young Girl is in fact a "literary masterpiece," Prose examines the text in detail, analysing its different versions and various discourse to conclude that it is not a piece of 'found art' but rather an intended piece of modern literature.
Anne would not have known her exact fate when on her 13th birthday she received a diary shortly before entering the secret annexee that would be home to her and seven others for over two years.

Feverishly penning her thoughts and observations, they illustrate a precocious grasp of the zeitgeist whilst she internally debated the nature of power and hegemonic frameworks that prompt humanity to act in both 'good' and 'evil' ways. Raising the issue of collective accountability, Anne's words highlight the cyclical pattern of such atrocities that were prophetic of, and still applicable to today's world:
I don't believe that the big men, the politicians and the capitalists alone, are guilty of the war. Oh no, the little man is just as guilty, otherwise the peoples of the world would have risen in revolt long ago! There's in people simply an urge to destroy, an urge to kill, to murder and rage, until all mankind, without exception, undergoes a great change, wars will be waged, everything that has been built up, cultivated, and grown will be destroyed and disfigured, after which mankind will have to begin all over again. ~ Wednesday, 3 May, 1944
In the same year as writing the above excerpt, she was betrayed, arrested and deported briefly to Westerbork and then onward to Auschwitz. Anne's final destination was the horror of Bergen-Belsen, where she died within days of her sister Margot of typhus in March 1945, just weeks before the camp was liberated by the British.
Perishing like millions of others, Anne's story has singularly risen from the masses and despite her demise—or perhaps because of it, her "leanings towards greatness" and ultimate desire to gain immortality through her writing has been fulfilled to epic proportions.

The Book
I want to go on living even after my death! And therefore I am grateful to God for giving me this gift, this possibility of developing myself and of writing, of expressing all that is in me. I can shake off everything if I write; my sorrows disappear, my courage is reborn. ~ Tuesday, 4 April, 1944
Anne's clear declaration of her intentions is most certainly not merely the ravings of an adolescent fantasist. That Anne took so much care and pride in her writing and consciously redrafted and rewrote entire sections retrospectively shows an agenda beyond whiling away the hours or achieving catharsis from her frustrating trepidation.
For Prose, "few other writers have given rise to such intense emotion. Few have such an effect on the world, and inspired the sort of devotion that more often surrounds the figure of a religious leader, or a saint."

Critics may argue that it is her posthumous story, as opposed to the book itself, which attracts so much attention. That it is the era that dictates the story, with the author acting as a vessel through which time tells its tale—it being the ultimate storyteller of us all. But whether or not you engage in the disputes regarding authorship or simply appreciate Anne's story as a poignant record of a momentously historical moment, the diary has and continues to generate the type of interest Anne only dreamed of.

The book is universally acclaimed as a commercial and literary success. With tens of millions of copies in print in dozens of different languages, it is still one of the most widely read, studied and written about texts to inspire, stir and even rile people of all ages and cultures over 60 years after its genesis.

I want to write, but more than that, I want to bring out all kinds of things that lie buried deep in my heart. ~ Saturday, 20 June, 1942
Though Anne wrote during the Holocaust, she captures a cross-cultural consciousness. Unveiling a Liberal Humanistic piece of literature, she not only wrote for herself and other Jews, but her writing represents the lives, longings and fears of young girls, young people—and all people, everywhere. People identify with her, whether grappling with genocide, incarceration, or adolescence. The Diary of a Young Girl somehow seems to speak for all.
With keynotes of truth telling, Anne's message of positivity and peace is one that pours from the pages:
If the truth is told, things are just as bad as you yourself care to make them. ~ Friday, 14 April, 1944

Her diary meditates on sibling rivalry, matriarchal relationships, her crush with Peter Van Daan, her parents' marriage issues and her mother/father-daughter relationships; and in doing so, reveals the multiple layers and themes emanating from her work that makes it so rich and receptive to study and debate.

It is all of these elements—the multiple dimensions and depth of meaning, the controversy, the wealth of material, which Prose pinpoints as further evidence of her extraordinary voice: "that mysterious amalgam of talent, instinct, hard work and countless small authorial decisions that make words seem to speak to us from the page." A voice that still sounds so strongly beyond a nameless mass grave from an ever-growing distant past.
The Setting
The war goes on just the same, whether or not we choose to quarrel, or long for freedom and fresh air, and so we should try to make the best of our stay here. ~ Saturday, 15 January, 1944
263 Prinsengracht looks like any other tall terraced Dutch house lining a canal in Amsterdam. Yet it is a monument to Anne's story. Originally housing the Opekta offices (Otto Frank's spice and pectin business), it contained the secret annexee of Anne's hiding, or (as Anne wanted her 'novel' to be called) Het Achterhuis (The House Behind). Today it is one of the most extraordinary museums in the world: The Anne Frank House.

Entering the house is much like any other museum, until you actually venture into the annexee and glimpse Anne's world from the inside. Wondering how she could have maintained such hope amongst the cramped conditions, her writing is literally on the wall by way of random quotes. They stir your soul into recalling the tearful reality of her situation.
Prose describes its impact: "Part of what makes the Anne Frank Museum so affecting is its simplicity and the sense that very little has changed since the furniture movers stripped the premises bare in the wake of the Jews' arrest...these mostly bare rooms, these walls and floors and ceilings, are allowed to speak for themselves."
That eight people lived here for two years and one month, sleeplessly subsisting on dry bread, spinach and rotten potatoes in 75 square metres of hidden room is made very real and very visible by standing in the midst of it. I glanced out of the windows onto the street below as Anne once did. Various lines from her diary during such moments make the experience mortifyingly vivid:
We all look down below, where people are fighting each other, we look above, where it is quiet and beautiful, and meanwhile we are cut off by the great dark mass, which will not let us go upwards, but which stands before us as an impenetrable wall; it tries to crush us, but cannot do so yet. I can only cry and implore: 'Oh, if only the black circle could recede and open the way for us!' ~ Monday, 8 November, 1943
I remember leaving Anne's house in numb silence. I am still left rapt in the wake of the book's entirety, but also by who wrote it and where she wrote it. And I am still haunted by an innocuous little house in the middle of Amsterdam where a young girl once hid and obsessively wrote a diary.
LITERARY TRAVELER INTERVIEW:
Behind The Article: Anne Frank Lives On
Anne Frank is a legend.
But is she a historical legend or a literary legend? That's the question literary expert Francine Prose tackles in her book entitled Anne Frank: The Book, The Life, The Afterlife. Literary Traveler writer Hannah May takes it one step further as she examines Prose's conclusions of Frank combined with her own feelings about the young Holocaust victim, including her visit to The Anne Frank Museum in Amsterdam.

In this installment of "Behind The Article", we asked Hannah May her opinions about Frank's literary and historical impact:

Literary Traveler: Since Holocaust survivors will soon start dying out, how will The Diary of Anne Frank serve to carry on history? Will it become an even more important historical document?
Hannah May: Most definitely. As both a first-person account of the Holocaust and influential piece of literature, it delves into the historical moment and the psyche of the people in it. As less people are able to testify and tell their story, it will immortalise both the time and people, suspending their voices in modern consciousness for years to come.

LT: Did anything strike you as shocking when researching this article esp. reading Francine Prose?
HM: I hadn't realised how people were so polarised and vehemently either opposed or celebrated the book to such extreme levels. Despite the controversies, claims of fraud and various ways it has been reworked and interpreted, it continues to endure as millions still return to the original text that so beautifully conveys the resilience, strength and vulnerability of the human spirit.
Francine's analytical reading of the book unveils proof of its intended literary and artistic nature, making it all the more tragic and shocking: Anne wanted people to know her story, whatever the consequences.

LT: Is there anywhere else worth noting for our literary travelers to visit around The Anne Frank House in Amsterdam? (i.e. restaurant, bar, bookshop, other tourist attraction, park, etc.)
HM: I would always recommend the nearby Museum Plein for the vast collections of internationally renowned art, especially the Rijksmuseum Vincent van Gogh. Cobra is a cool cafe-meets-gallery situated in the middle of the Plein with excellent coffee. Theater Carré is nearby as is the picturesque Vondelpark; both striking. Noordermarkt is a younger, hip area of the city where you can dine at Finch. And the bustling Leidseplein (or Red Light District) is always worth a visit.