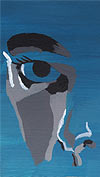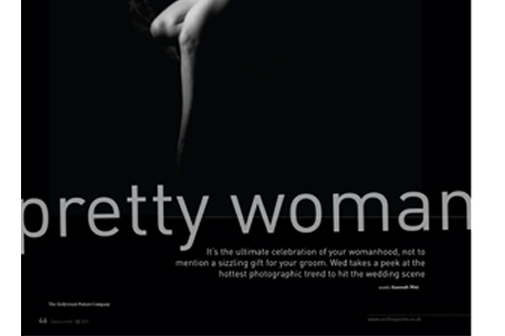 Pretty Woman
You may well have successfully snagged your spouse-to-be with your best dance floor shakings, be it a humble two-step or snake hipped shenanigans. But whether you fall into the Ricky Martin or Ricky Gervais style of body popping, your loved one will always be mindful of the way you move. Some will even testify that how you work it on the dance floor is a signpost of your bedroom abilities, with rhythm and bodily coordination being at the forefront of physical union. Fair enough. So why the preamble?
There is one particular movement that is storming the wedding scene. Though it focuses on the way you look, it originates from and surrounds a phenomenon that sits heavily on the way you move – seduction.
Tracking back to what attracted you to your sweetheart may reveal a penchant for a posterior, spine tingling smile, soul piercing stare or alluring laugh. Why not evoke these attributes with some seductive styling and personal posing with a boudoir photo shoot?
Think about it. Capturing your character in a lavish setting and exposing your sexily best side will make a fabulously unique surprise for your love and will provide a lifelong memento of a sweetly treasured time. With the inevitable procession of age, artify your assets and make timeless the more youthful and freshly in-love you.
Reflecting the recent wave of New Burlesque style that is at the height of the fashion and filmic worlds, the art of the tease – reinvented by stripper-turned-poseur extraordinaire, Dita Von Teese – is a tantalising trend. Inspired by the old school glamour of 1940s' cinema and film goddesses of an achingly nostalgic age, it's about personifying romance in an individual way. Rather than tacky, bare-all centre folds, boudoir photography is a highly suggestive aesthetic that draws from your inner sensuality to create images that convey not only your unique beauty, but deepest fantasy.
Drawing from a mixture of influences from pole dancing and fetish to dance and couture, corporeality is at the core. By boldly baring your body to the lens your self-esteem will be in overdrive, your man will melt with pride – and you don't need to flaunt all your flesh for a sultry look.
Lay down any mood and look according to your individual influences. Whether you fancy vintage Victorian, Moulin Rouge mimicry or something a little more understated, by teaming whatever elements of the art of seduction that move you most – be it corseting, eyelash batting, bustier break-outs or unabashed nudity – the stunning result will no doubt raise more than a mere eyebrow…
www.wedmagazine.co.uk