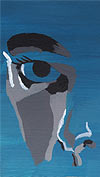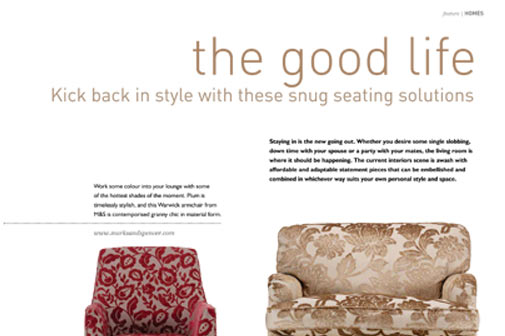 The Good Life
Staying in is the new going out. Whether you desire some single slobbing, downtime with your spouse or a party with your mates, the living room is where it should be happening. The current interiors scene is awash with affordable and adaptable statement pieces that can embellished and combined in whichever way suits your own personal style and space.
If youíre seeking sumptuous textures to cosy into, velvet royally hits the spot. This aptly named love seat from M&S is as tempting to touch as your newlywed Ė with bold floral patterning to boot.
Work some colour into your lounge with some of the hottest shades of the moment. Plum is timelessly stylish, and this Warwick armchair from M&S is contemporised granny chic in material form.
Nothing says Ďchill outí quite so indulgently as a chaise lounge. Adding class and coolness to your abode, youíll feel like a true deity by going horizontal on this little number from House of Fraser.
Country or coastal? Crafted by Rozen, this French-looking day bed is in keeping with practically any style courtesy of its clean lines and neat whites. With an ability to calmly camouflage amongst any aesthetic, itís both pretty and pragmatic.
Install a modern piece of art into your living space with this sexily sculpted arc chair. Each individual creation is handmade, signed and dated by Tom Raffield, and, presenting a new shape from differing angles, itís as easy on the behind as it is the eyes.