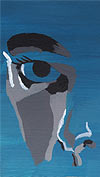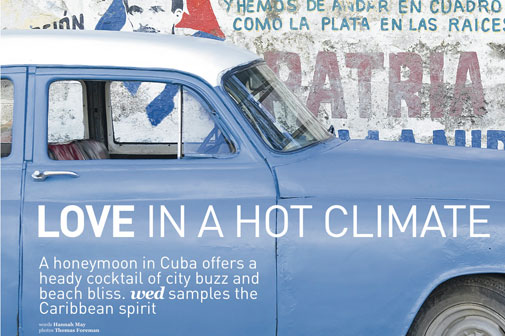 Love In a Hot Climate
Salsa. Mojitos. Cigars… Cuba is an intoxicating place. It is a country full of captivating contradictions – retro and cosmopolitan, quaint and vibrant, tranquil and raucous.
For honeymooners, it provides the perfect mix: exquisite sands, lush interiors and bustling cities. Whether you want to experience heavenly luxury amongst tropical Caribbean surrounds, indulge in a heady dose of culture in the urban epicentres or decamp to the remote rural areas that promise back-to-nature escapism of the highest calibre – Cuba is a definitive honeymoon destination.
While you feel transported back in time, you also get an urgent sense of the present – and this is part of Cuba's unique allure. Amidst outstanding 1950s' architecture and classic motorcars, the post-revolution atmosphere is one of anticipation, change and an almost addictive joie de vivre.
Though it's still very much a transitional time politically and socially, Cuba celebrates tourism. Rather than touting, the locals generally prefer to chat, practise their English and exchange pleasantries.
Not renowned for its culinary delights, cuisine is another way in which Cuban people exercise their trademark innovation. Certain foodstuffs and materials are not readily available, so an imaginative, experimental fusion of dishes features on most menus.
The locals seem to subsist on coffee, rum and cigars occasioned with the odd slice of street pizza or a hotdog to stave off hunger. However, for authentic Cuban food, opt for the comida criolla (Creole) option, which comprises rice, meat, fried plantains and salad. Moros y cristianos (Moors and Christians) is atypically Cuban, consisting of white rice cooked with black beans.
The real flavour runs in the atmosphere. Salsa and jazz are indigenous to the everyday culture and lives of Cuban people, which – practically pulsing through the ground underfoot – forms a ubiquitous soundtrack to your stay.
A mass of multiculturalism, Cuba hosts an intriguing variety of influences, most notably its African and Spanish traditions that merged to create the Santería (Catholicism and Yoruba) belief system.
So how do honeymooners attempt to sample such a diverse and opportunistic country? As a minimum, to experience the popular highlights and several of the most spectacular sides of the country, a combination of beach and city is recommended.
Havana. Famed for its stunning buildings, festival atmosphere and historical memorials to revolutionaries, the capital city is a must-see for a multitude of reasons. Synonymous with some great literary figures that found haven here, such as Ernest Hemingway and Graham Greene, Havana is a hub for artists, musicians and entrepreneurs alike.
Schedule a sojourn in Habana Vieja – the oldest part of the city – where Hemingway's hotel-home and favourite watering hole, El Floridita, are famously situated.
Replete with art deco, neoclassic and colonial baroque architecture, the monumental buildings betray a former grandeur that is literally crumbling to the ground, making its beauty all the more tragically surreal as you wander the historic streets. Yet development is very much in force as the economy slowly recovers from the repercussions of Castro's rule. Progression is visible everywhere alongside the decay, giving the city a rare and unique perspective unlike anywhere else in the world.
Marvel the epicentre and stay in the sumptuous splendour of The Saratoga. Revel in its coveted position overlooking the Capitolio – right in the thick of the action in Centro Habana – and lounge on its rooftop terrace overlooking incredible views of the city.
Step outside and you are surrounded by a plethora of cultural and artistic offerings, from the Museo de la Revolución to both Cuban and international collections of art housed in the two Museo Nacional de Belles Artes.
With cabaret, clubs and bars to entertain, the nightlife is a late and lively spectacle showcasing the eclectic dances and music so intrinsic to Cuban culture.
Just several hours down the coast and you are transported into paradisiacal bliss. Varadero is a popular tourist destination, offering the convenience, service and facilities required for an extravagant and relaxing beach break.
Experience deliciously decadent treatment at Meliá Paradisus Varadero. Nestled at the furthest eastern point of the peninsula, it's situated on the Varahicacos Ecological Reserve. Prepare to be enveloped by breathtaking beauty courtesy of lush palms, turquoise waters and five-star all-inclusive luxuries.
Boasting six international restaurants and several bars, cuisine here is something of a delight. Indulge further with the ultra exclusive Royal Service, and the lavish levels exceed VIP expectation.
The Romance Suite guarantees gorgeous sea views and an extensive tally of services such as complimentary YHI Spa treatments, 24-hour room and butler service and complete in-room conveniences.
Further downtown, if you can bear to peel yourself away from Paradisus, enjoy sunset cocktails and panoramic views of Varadero at Hotel Xanadu, and then join the locals as they literally dance on the street at open-air club, Calle 62.
If you're planning an extended stay, other locations to muse over include entrancing Trinidad, colourful Santiago de Cuba and 'Treasure Island', Isla de la Juventud.
With national and marine parks, mountains and jungles, wildlife reserves and a World Heritage Site – eco tourism (especially to the western Pinar del Río Province) is fast gaining repute. Diving, yachting, trekking, climbing – they're all ripe for the picking on this idyllic island.
Hotel Saratoga
www.hotel-saratoga.com
Meliá Paradisus Varadero
www.solmeliacuba.com/cuba-hotels/hotel-paradisus-varadero
CUBA LUXURY RENT
Honeymoon in style with personal travel assistants. Providing first class service to tourists, Cuba Luxury Rent hires exquisite private villas and plans packages specifically tailored to individual travellers' needs.
Hosting the widest selection of luxury apartments and villas, the accommodation is located in the most exclusive areas of Havana and Varadero close to the main attractions whilst offering utterly private escapism.
Their 24-hour service includes a range of elements to personally satisfy every whim such as a chauffeured car service, personal butler and international chef. With hallmarks of outstanding quality, their service is second-to-none.
From coordinating travel itineraries to organising excursions, entertainment, tours and activities such as deep sea fishing and yacht rental – as well as arranging tickets to fashion shows, clubs and theatres – Cuba Luxury Rent is an all-inclusive service for a complete five-star experience.
www.cubaluxuryrent.com
www.marysoltravel.com
www.wedmagazine.co.uk